SUNY Canton Named Among Top 10 Most Pet-Friendly Colleges by University Magazine
University Magazine has selected SUNY Canton as one of the most pet-friendly colleges in the U.S. for 2023.
Citing the long-standing pet-friendly housing option called the Pet Wing and newly created Dog Floor, the Canadian publication placed the college on its top 10 list with other renowned universities such as MIT and the University of Illinois.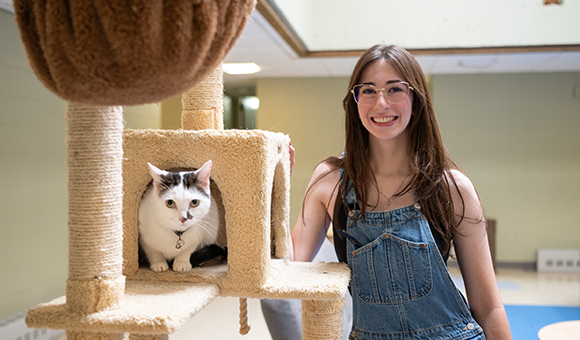 Located in Mohawk Hall, the Pet Wing began in 1997 and allows students to bring a variety of companions with them to live on campus, including cats, ferrets, rabbits, hamsters, gerbils and fish. It has expanded in size in recent years, and can now accommodate more than 100 students.
Victoria S. Bonavita, a junior Veterinary Technology major from Smithtown, has lived with her cat, Luca, since her freshman year. She said being able to bring Luca to campus was a significant factor in selecting a school.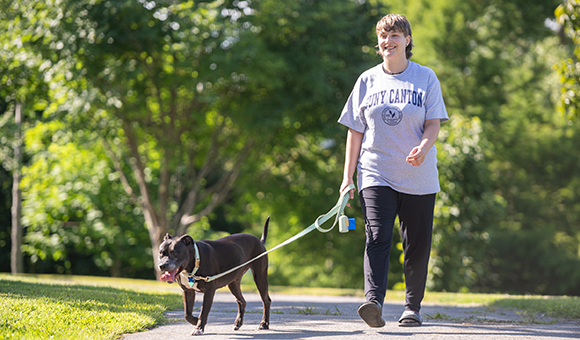 "The Pet Wing is what really drew me to Canton, because I've had pets my whole life and Luca is a big part of home. He's very happy here and has helped me better adjust to college life."
One of her favorite activities is taking Luca on walks around campus in his stroller and noted that he has made many furry — and human — friends.
"He is very outgoing with the other animals and their owners. His best friend is another resident cat named Zero," she added.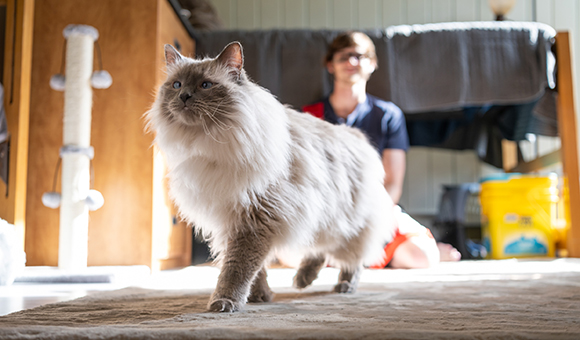 The unique housing option is a favorite choice among those who are pursuing one of three veterinary-related degrees.
Most recently, the college expanded its pet-friendly policy to include dogs. The Dog Floor is located in Rushton Hall and houses 12 students and their canine companions this semester.
Wolf N. Dingman and their dog, Selene, are new Dog Floor residents. Dingman is a freshman Veterinary Technology major from Rome and adopted Selene five years ago from an animal shelter.
"She loves the outdoors and especially the snow, so I know she will be very happy living here," they said.
The Dog Floor and the Veterinary Technology program largely contributed to their decision to attend SUNY Canton.
"I love animals and knew I wanted to go into the medical field, so this program was the perfect fit for me."
For the entire list, check out University Magazine's most pet-friendly colleges.
About SUNY Canton
As Northern New York's premier college for career-driven bachelor's degrees, associate degrees and professional certificate programs, SUNY Canton delivers quality hands-on programs in engineering technology, management, and healthcare fields. It is home to the Center for Criminal Justice, Intelligence and Cybersecurity. Faculty members are noted for their professional real-world experience in addition to outstanding academic credentials. As SUNY's leader in online education, SUNY Canton OnLine offers hundreds of flexible and convenient courses as well as 23 online degree programs. The SUNY Canton Kangaroos 15 traditional athletic teams compete at the NCAA Division III level as part of the North Atlantic Conference. SUNY Canton also features varsity esports and cheerleading.