Governor Hochul Announces Completion of North Country's Smart Path 78-Mile Clean Energy Transmission Project
Modernized Transmission Line with Smaller Environmental Footprint Strengthens State's Energy Grid, Provides Added Resiliency Against Storms
View Photos Here of the Building of the New Smart Path, a Video of NYPA's Moses-Adirondack Smart Path Reliability Project, and a Comprehensive Map of New Statewide Transmission Investments
Governor Kathy Hochul today announced the completion and successful energization of the New York Power Authority's Smart Path clean energy transmission infrastructure project in the North Country. The Smart Path project is an upgrade of 78 miles of transmission lines that span from Massena in St. Lawrence County to Croghan in Lewis County. The milestone helps put New York on track to meet its nation-leading clean energy goals, outlined in the Climate Leadership and Community Protection Act, including 70 percent renewable energy generation by 2030 and a zero-emissions electricity sector by 2040.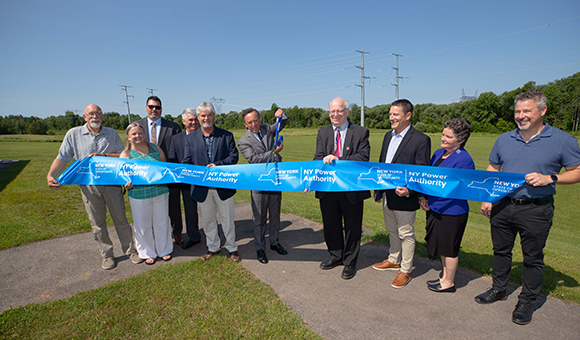 "The completion of the Smart Path transmission line is an example of a massive energy infrastructure improvement project that will onboard clean energy to the state's electricity grid," Governor Hochul said. "Smart Path commenced at the height of the pandemic and now proudly has been completed on-time and on-budget -- helping provide lasting reliability and environmental benefits to New York's electrical grid for decades to come."
Justin E. Driscoll, NYPA acting president and CEO, joined State University of New York at Canton President Zvi Szafran, Mark Harasha, President of Michels Construction and state and local officials on the SUNY Canton campus this morning for a celebration of the project's completion.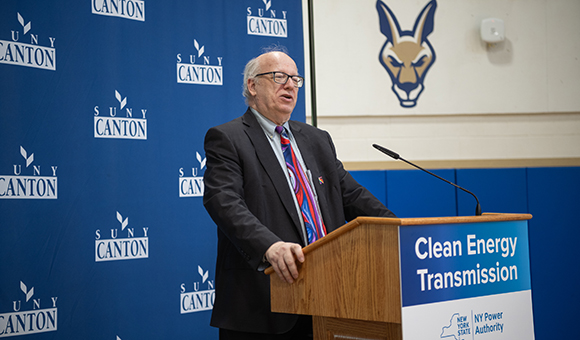 With fewer poles made of steel instead of the original wood, the project will harden the lines against weather events and enable the secure transmission of clean energy from northern New York into the state's electric power grid. Smart Path's rebuilt lines can transmit up to 345 kilovolts (kV). They will be operated in the near-term at the 230 kV level until the completion of the Smart Path Connect project. Together the lines are currently rated to carry 900 megawatts during the winter months--enough clean electricity to power up to 900,000 averaged-sized homes. Increasing the voltage is a cost-effective way to add more renewable power, especially from in-state renewable generation, anywhere along the transmission line, as New York continues to advance its clean energy goals.
Justin E. Driscoll, Acting President New York Power Authority said, "The Moses-Adirondack Smart Path transmission line was the Power Authority's oldest asset, built in 1942, acquired by the Authority in the early 50s, and now it has become one of our newest I am immensely proud of the Power Authority team, the skilled laborers, and contractors who completed this challenging work on this major transmission artery safely under unusually difficult circumstances."
The $484 million Smart Path project involved the replacement of the original H-frame wood poles, some of which are more than 80 years old with 776 new single steel monopoles in the existing right of way. The rebuilding of the lines followed the original project's path, but for a small area on the SUNY Canton campus, where the line was rerouted around recreation and sports fields that were developed as the campus grew. The work involved the installation of high-voltage transmission lines from Massena to Croghan which were strung by helicopter. The International Brotherhood of Electrical Workers (IBEW 1249) and Michels performed much of the specialized transmission construction on the project.
The New York Power Authority is also working with National Grid on a separate but connected transmission project involving the rebuild of approximately 100 miles of transmission lines in the North Country and the Mohawk Valley. The project, known as Smart Path Connect, runs East-West from Clinton to Massena and North-South from Croghan to Marcy. When completed, the two segments of Smart Path Connect will join the Smart Path project, creating one continuous upgraded transmission line from Clinton to Marcy. The Smart Path Connect project kicked off construction late last year.
In addition to the Smart Path and Smart Path Connect, NYPA is also working with LS Power Grid New York on the Central East Energy Connect transmission project, involving the rebuild of approximately 90 miles of transmission through a heavily congested transmission corridor between the Mohawk Valley and the Capital Region. NYPA is also working in collaboration with energyRe and Invenergy on Clean Path NY, an $11 billion clean energy and infrastructure project that will deliver more than 7.5 million megawatt hours of clean energy into New York City every year. In addition, NYPA and New York Transco are collaborating on a proposed Propel NY Energy transmission solution, currently under review by the New York Independent System Operator (NYISO) that, if approved, will reliably integrate clean offshore wind power into the statewide energy grid and bolster resiliency of the transmission system.
NYPA owns and operates approximately one third of New York's high voltage power lines. The lines transmit power from NYPA's three large hydroelectric generation facilities and independent wind power generation facilities, connecting nearly 7,000 megawatts of renewable energy to New York State's power grid. This includes connecting more than 6,300 megawatts of hydroelectric power and about 700 megawatts, or more than a third, of New York State generated wind energy to the grid. NYPA, the largest state public power organization in the nation, operates 16 power generating facilities.
NYPA's transmission projects will join several additional New York State transmission projects in various stages of construction including New York Transco's New York Energy Solution which involves the rebuild of approximately 54 miles of transmission lines in the Hudson Valley and Champlain Hudson Power Express Transmission Project developed by Transmission Developers Inc. All these projects will help deliver more clean energy across New York State.
Senator Kevin Parker, Chair of the Senate Energy & Telecommunications Committee, said, "We must embrace the opportunities to modernize our energy systems and invest in clean and sustainable solutions that ensure the resilience of our infrastructure, the protection of our environment, and the wellbeing of our communities."
Assemblymember Didi Barrett, Chair of the Assembly Energy Committee, said, "The newly completed Smart Path Transmission Project is integral to enhancing resiliency and modernizing the grid, which is necessary to achieve our climate goals, and will provide up to 900,000 homes with clean electricity. Balancing reliability throughout our energy transition with the increased demand for electricity is crucial, and I commend the New York Power Authority for their work on this project and others to modernize and upgrade our state's aging energy infrastructure."
President AFLCIO Central Trades and Labor Council for Jefferson, Lewis and St. Lawrence Counties, Ron McDougall said, "I want to thank the Power Authority for having the vision to plan for and improve this critical transmission infrastructure. In addition to providing reliable energy to homes and businesses across the state, this project provided vital support to our local businesses—especially during the pandemic—and has had a tremendous impact on our local economy."
International Brotherhood of Electrical Workers Business Manager Bill Brown, Jr. said, "The men and women of the IBEW Local 2032 have done a tremendous job of maintaining and operating the Moses Adirondack line for decades. Our members will continue to offer the expertise and dedication necessary to help support Gov. Hochul and New York State in its efforts to support green energy. The new transmission towers will be a key component for support of New York's energy policy and the jobs that are critical to our local economy."
Mark Harasha, President of Michels Construction, said, "The Smart Path transmission project was a testament to a successful team-oriented project. Each party involved worked together with common goals, to deliver a safe and quality product. Every employee, subcontractor, and vendor involved played a significant role in this project. Our team learned and sacrificed a lot over the years, which has only strengthened our internal culture. Michels thanks everyone involved, and we look forward to continuing the success on Smart Path Connect."
SUNY Canton President Zvi Szafran said, "As we celebrate the completion of NYPA's Smart Path project, we embrace brighter prospects for SUNY Canton and the Roos House Convocation Athletic and Recreation Center. Rerouting the aging power lines is a significant infrastructure upgrade that helps us foster growth and future expansion of our campus. With renewed energy and enhanced capabilities, we are poised to create an exceptional environment for our students, faculty and community members. This milestone marks a new chapter in our journey, where the power of innovation meets the power of education, propelling us forward into a future of enhanced possibilities."
New York State's Nation-Leading Climate Plan
New York State's nation-leading climate agenda calls for an orderly and just transition that creates family-sustaining jobs, continues fostering a green economy across all sectors and ensures that at least 35 percent, with a goal of 40 percent, of the benefits of clean energy investments are directed to disadvantaged communities. Guided by some of the nation's most aggressive climate and clean energy initiatives, New York is on a path to achieving a zero-emission electricity sector by 2040, including 70 percent renewable energy generation by 2030, and economy wide carbon neutrality by mid-century. A cornerstone of this transition is New York's unprecedented clean energy investments, including more than $35 billion in 120 large-scale renewable and transmission projects across the state, $6.8 billion to reduce building emissions, $1.8 billion to scale up solar, more than $1 billion for clean transportation initiatives, and over $1.8 billion in NY Green Bank commitments. These and other investments are supporting more than 165,000 jobs in New York's clean energy sector in 2021 and a 2,100 percent growth in the distributed solar sector since 2011. To reduce greenhouse gas emissions and improve air quality, New York also adopted zero-emission vehicle regulations, including requiring all new passenger cars and trucks sold in the State be zero emission by 2035. Partnerships are continuing to advance New York's climate action with nearly 400 registered and 100 certified Climate Smart Communities, nearly 500 Clean Energy Communities, and the State's largest community air monitoring initiative in 10 disadvantaged communities across the state to help target air pollution interventions and combat climate change.
About SUNY Canton
As Northern New York's premier college for career-driven bachelor's degrees, associate degrees and professional certificate programs, SUNY Canton delivers quality hands-on programs in engineering technology, management, and healthcare fields. It is home to the Center for Criminal Justice, Intelligence and Cybersecurity. Faculty members are noted for their professional real-world experience in addition to outstanding academic credentials. As SUNY's leader in online education, SUNY Canton OnLine offers hundreds of flexible and convenient courses as well as 23 online degree programs. The SUNY Canton Kangaroos 15 traditional athletic teams compete at the NCAA Division III level as part of the North Atlantic Conference. SUNY Canton also features varsity esports and cheerleading.