Civil & Environmental Engineering Technology - B. Tech
The Civil & Environmental Engineering Technology B. Tech program provides students with real-world experience and skills that will launch them into a career in two growing fields.
What Is Civil Engineering Technology?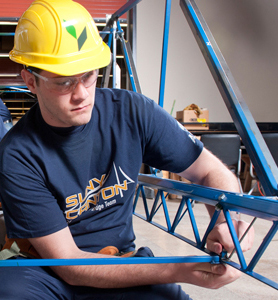 Have you ever wanted to be part of designing something – the next world's tallest building, super stadium, or super highway? Have you watched the progress on a new building project in your hometown and wondered what it would be like to be the person in charge of that project? Have you heard in the media about how the nation's infrastructure is failing and needs to be rebuilt? You could be a part of that – those who enter the Civil Engineering field are responsible for building and maintaining our nation's infrastructure. You could design and construct:
Buildings
Roads
Dams
Bridges
Airports
Treatment/Disposal Facilities
What is Environmental Engineering Technology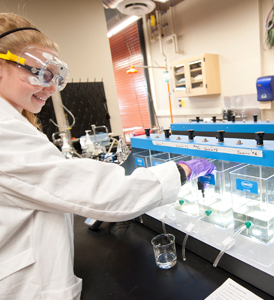 Have you ever wanted to play a role in cleaning up the Earth and environment? Have you ever seen the television commercials of third world communities having to drink dirty, contaminated water and wished there was something you could do to help? Do you like different fields of science, math, and engineering? Those who enter the Environmental Engineering field apply the best parts of geology, biology, chemistry, physics, mathematics, and engineering to improve the natural environment for human consumption and use. Environmental Engineers are responsible for:
Quality Testing and Assessment
Remediation - Cleanup and Containment
Treatment - Drinking Water, Wastewater, Process Water, Air, and Wastes
Resource Management (e.g. water, minerals, oil/gas)
Environmental Regulations (implementation and enforcement)
Industrial Fields/Areas of Study
Structural Design (Steel, Reinforced Concrete, Timber)
Geotechnical Engineering
Transportation
Water Resources
Water and Wastewater Treatment
Solid Waste Management
Soil and Surface water/Groundwater Remediation

Employment statistics are from the Bureau of Labor Statistics 2020-2030 Occupational Outlook Handbook.
A Promising Career Outlook
Earn a degree that will educate you and prepare you for a career in not one, but two, growing industries that are employable, are experiencing significant growth, have high earning potential, and are exciting fields where you can make a difference and contribution to our society.
Growing industries
Faster than average job growth
Great earning potential
| | |
| --- | --- |
| Civil Engineering Technology Field | Environmental Engineering Technology Field |
| 6% Growth | 5% Growth |
| Mean Annual Income of $86,640 | Mean Annual Income of $87,620 |
Employment statistics are from the Bureau of Labor Statistics 2018-2028 Occupational Outlook Handbook. Additional information is available for both civil engineering and environmental engineering fields.
Employment opportunities include:
Civil/Structural/Environmental/Construction Engineering
Engineering Assistant
Structural Designer and Detailer
Assistant Project Manager/Engineer/ Environmental Engineer
Surveyor
Environmental Technologist
QC Engineering Technologist
Groundwater Engineer
Municipal Water/Wastewater Treatment Plant Operator
Geotechnical Engineer
Construction Project Estimator
Construction Inspectors
Residential & Commercial/General Contractor
Benefits of an Applied, Industry Driven Curriculum:
Classes and labs are interactive and fun.
Immediately after graduation you can start your career.
You can hit the ground running when you start your career – advancing yourself sooner to a higher earning potential.
Accreditation:

The Civil and Environmental Engineering Technology program is accredited by the Engineering Technology Accreditation Commission of ABET, https://www.abet.org
415 N. Charles St.
Baltimore, MD 21201
(410) 347-7700
Admission Requirements:
Candidates must have a minimum of a high school diploma or high school equivalent.
Freshmen will meet all general admission requirements to SUNY Canton.
Students should have completed four years regents level high school math and be ready for Pre-Calculus (MATH 123) and College Physics I (PHYS 121/125). Students does not meeting these criteria will be required to take prerequisites in math.
Students who graduate with a two year college degree in a program related area will be evaluated and awarded maximum credit to enable him/her to complete the (B. Tech) degree in two years. They must have a minimum grade point average of 2.00. Transfer students from community colleges, universities or other institutions of higher learning with some coursework completed will be evaluated on case-by-case basis. Minimum grades of "C" for transfer provided the content is comparable to that offered at SUNY Canton.
Refer to the table of high school course prerequisites for admission.
Civil & Environmental Engineering Technology
Adrienne Rygel, Ph.D.
Department Chair
315-386-7163
rygela@canton.edu
Fall Enrollment Trends
| | | | |
| --- | --- | --- | --- |
| | FT | PT | Total |
| 2022 | 34 | 0 | 34 |
| 2021 | 35 | 1 | 36 |
| 2020 | 35 | 1 | 36 |
| 2019 | 46 | 3 | 49 |
| 2018 | 55 | 2 | 57 |

Graduation Rate Trends*
| | | |
| --- | --- | --- |
| Cohort Entering | Cohort Size | % |
| Fall 2016 | 8 | 63% |
| Fall 2015 | 7 | 43% |
| Fall 2014 | 1 | 0% |
| Fall 2013 | 3 | 100% |
| Fall 2012 | 8 | 13% |

*Graduate rates are based on first-time, full-time, degree-seeking freshmen entering in fall and graduating within 150% of time.

Degrees Conferred
| | |
| --- | --- |
| | Total |
| 2021-22 | 12 |
| 2020-21 | 13 |
| 2019-20 | 13 |
| 2018-19 | 13 |
| 2017-18 | 6 |