Computer Information Systems - A.A.S.
This degree will prepare you with technical skills, general education, applied knowledge, and work ethic required for a wide range of entry-level positions in the expanding field of information technology. You will be well prepared to begin a career as systems manager, junior programmer, computer operator, office manager or technical representative.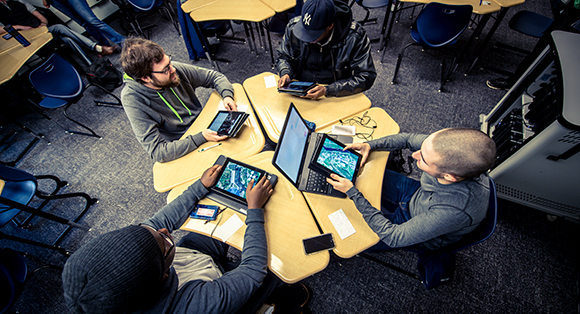 Computer Information Systems (CIS) students develop abilities for working with computer systems, databases, networks, and web development. Qualified graduates also have the opportunity of completing a four-year program in Information Technology with two additional years of study earning a Bachelor of Technology degree.
Students in this Major:
Develop the knowledge and experience for a successful career in the computer industry.
Develop teamwork skills throughout the program.
Enhance their skill sets by opportunities to electives of interest.
Acquire hands-on experience in small, well-equipped laboratories.
Work with qualified faculty in small class sizes solving real-world problems.

Employment statistics are from the Bureau of Labor Statistics 2020-2030 Occupational Outlook Handbook.
Career Opportunities:
Junior Programmers
Network technician/administrator
Systems Manager
Web Developer
Technical Representative
Help Desk Manager
Recent Employers of SUNY Canton Graduates:
SUNY Canton
Clarkson University
Fused Solutions
Canton-Potsdam Hospital
St Lawrence-Lewis County BOCES
Eclipsys
IBM
Corning, Inc.
Transfer Opportunities:
SUNY Canton: Information Technology and Industrial Technology Management
SUNY Plattsburgh: Information Technology
Admission Requirements:
Refer to the table of high school course prerequisites for admission.
Students must be qualified to enter at least Intermediate Algebra (MATH 106) and Oral and Written Expression (ENGL 102).
High school chemistry and physics courses are recommended.
High school computer technology courses are strongly recommended.
Transfer students must have a minimum of 2.0 GPA.
Students who do not meet necessary prerequisites may be admitted to the college. However, completing the program may require more than two years.
PROGRAM REQUIREMENTS (Curriculum 0581-01)
The following shows the typical course sequence and program requirements.
Semester I Credits
Semester II Credits
Semester III Credits
Semester IV Credits
* Fulfills writing intensive requirement.
GER=General Educational Requirement
NOTE: Computer Information Systems students must successfully complete the SUNY Canton computer competency requirement. Although there are several modern well-equipped computer labs on campus, it is expected each student has a personal computer.
1 Any CITA course presented for meeting degree requirements must have a grade of at least C (or transfer credit). No more than 3 CITA credits with a course number below CITA 150 may receive credit towards graduation.
2 CIS minimum requirement is MATH 106 Intermediate Algebra. MATH 121 College Algebra and MATH 141 Statistics are required in the B. Tech. in IT Program. CHEM 107/108 Investigative Chemistry and Lab or PHYS 115 Basic Physics recommended as a science elective.
3 All graduates must have a minimum of 20 Liberal Arts and Sciences (LA) credits.
4 Students pursuing a baccalaureate degree should select courses from the following GER areas when feasible. GER 2 Science (CHEM 107/108 Investigative Chemistry/ Lab recommended), GER 4 American History; GER 5 Western Civilization; GER 6 Other World Cultures; GER 7 Humanities; GER 8 The Arts; or GER 9 Foreign Language.
5 Program Electives are from Canino School of Engineering Technology, the Business Department (including ACCT 102 Managerial Accounting), the Cybersecurity program and the GMMD and GAME programs. Students pursuing a B. Tech. in Information Technology should take: CITA 180 Introduction to Programming, CITA 204 Systems Analysis and Design, and CITA 215 Database Applications and Concepts.
6 ACCT 101 Financial Accounting may be substituted for students interested in pursuing a business-related minor or major.
7 Social Science Elective - students pursuing a baccalaureate degree should select from GER 4, 5, or 6 - see note 4 above.
ADDITIONAL GRADUATION REQUIREMENTS
Each CITA/CYBR/MINS/SOET course used to meet graduation requirements must have a grade of "C" or higher. A transfer student must complete at least two CITA/CYBR/MINS/ SOET courses (six credit hours) numbered 200 or above which are applicable to the degree.
Computer Information Services
Tatsuhito Koya, Ph.D.
Associate Professor & Program Coordinator
315-386-7362
koyat@canton.edu
Fall Enrollment Trends
| | | | |
| --- | --- | --- | --- |
| | FT | PT | Total |
| 2022 | 12 | 3 | 15 |
| 2021 | 8 | 4 | 12 |
| 2020 | 11 | 1 | 12 |
| 2019 | 12 | 2 | 14 |
| 2018 | 11 | 0 | 11 |

Graduation Rate Trends*
| | | |
| --- | --- | --- |
| Cohort Entering | Cohort Size | % |
| Fall 2019 | 5 | 20% |
| Fall 2018 | 1 | 100% |
| Fall 2017 | 4 | 0% |
| Fall 2016 | 5 | 20% |
| Fall 2015 | 8 | 50% |

*Graduate rates are based on first-time, full-time, degree-seeking freshmen entering in fall and graduating within 150% of time.

Degrees Conferred
| | |
| --- | --- |
| | Total |
| 2021-22 | 2 |
| 2020-21 | 7 |
| 2019-20 | 3 |
| 2018-19 | 7 |
| 2017-18 | 7 |