Home > CSOET > Graphic and Multimedia Design
Graphic and Multimedia Design - B.S.
Creative Courses
Three Dimensional Design
Web Publishing
Digital Photography
Digital Documentary Video
Video Games and Virtual Worlds
Graphic and Multimedia Design (GMMD) is a fast paced technology and culture driven major for creative students interested in pursuing a four-year degree. Students can also expect to learn about podcasts, blogs, and other new forms of communication.
This program is designed for students who want to be creative and who want to maximize their marketability after graduation.
- Dr. Christopher Sweeney
Professor

Employment statistics are from the Bureau of Labor Statistics 2020-2030 Occupational Outlook Handbook.
New Ideas, New Technology
The program integrates courses from the Information Technology program, like web development, and blends it with the custom and newly created courses. Film is rapidly becoming a staple form of communication. GMMD challenges the status quo with specialized film courses and theater production courses.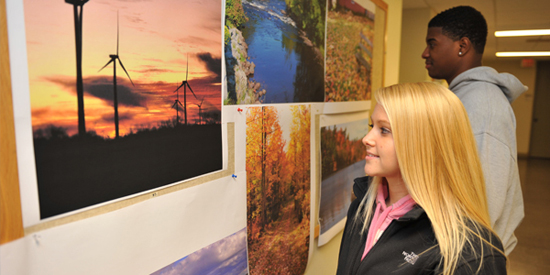 Write Your Own Future
This program is writing intensive. Students should be prepared to take English and communications courses during the first three years of the program.
Real-World Opportunities
The final semester of this program consists of either an on-the-job internship or a project based individual or team product launch project. Students can opt to get a leg up on their post graduate careers or can opt to create a totally new product for unveiling.
Graphic and Multimedia Design
Morgan Hastings
Lecturer & Program Director
315-386-7542
hastingsm@canton.edu
Fall Enrollment Trends
| | | | |
| --- | --- | --- | --- |
| | FT | PT | Total |
| 2022 | 61 | 3 | 64 |
| 2021 | 64 | 4 | 68 |
| 2020 | 70 | 2 | 72 |
| 2019 | 72 | 1 | 73 |
| 2018 | 52 | 5 | 57 |

Graduation Rate Trends*
| | | |
| --- | --- | --- |
| Cohort Entering | Cohort Size | % |
| Fall 2016 | 9 | 33% |
| Fall 2015 | 8 | 38% |
| Fall 2014 | 11 | 64% |
| Fall 2013 | 8 | 50% |
| Fall 2012 | 15 | 27% |
*Graduate rates are based on first-time, full-time, degree-seeking freshmen entering in fall and graduating within 150% of time

Degrees Conferred
| | |
| --- | --- |
| | Total |
| 2021-22 | 19 |
| 2020-21 | 12 |
| 2019-20 | 8 |
| 2018-19 | 13 |
| 2017-18 | 12 |