Mechanical Engineering Technology - A.A.S.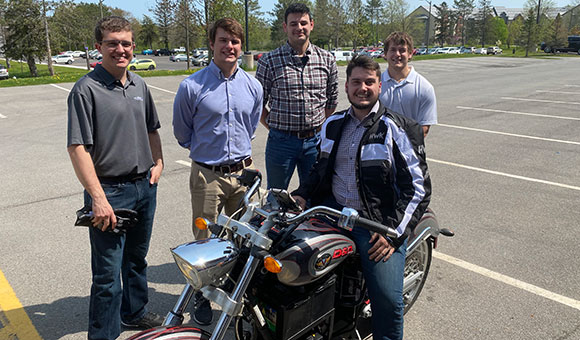 Mechanical technicians design, maintain, construct, and modify machines, tools, consumer products, and mechanical equipment. Mechanical technicians are some of the most in-demand employees across the engineering industry. They work on a variety of projects including sketching new machine parts using computer-aided drafting and design equipment, manufacturing products, and simplifying processes.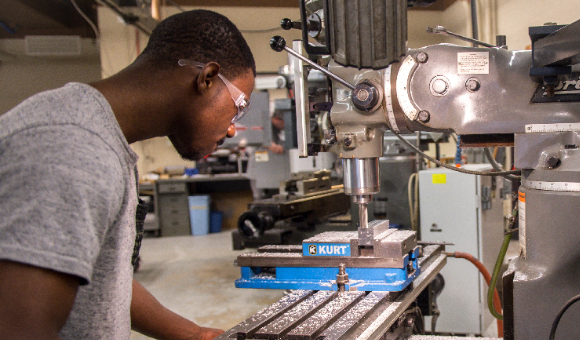 Students in this Major:
Learn about technologies associated with manufacturing.
Receive a strong core preparation in science and mathematics to facilitate success in engineering technology.
Experience learning in an environment which closely models the workplace.
Have the flexibility to commence their career immediately upon graduation, or to continue with the pursuit of a baccalaureate degree in any of several areas including Alternative and Renewable Energy Systems, Industrial Technology Management, or Facilities Operation.
Will apply the scientific and technical knowledge learned through their academic and hands-on experience at Canton combined with their own judgment to design, test, troubleshoot and improve machines, tooling, processes and information flow that serve the manufacturing industry.
Career Opportunities:
Typical job titles in which our graduates are employed are:
Mechanical Engineering Technician
Engineering Assistant
Computer-Aided Drafting
Designer
Quality Management Technician
Lab Technician
Instructional Assistant
Field Service Technician
CNC operator/programmer

Employment statistics are from the Bureau of Labor Statistics 2020-2030 Occupational Outlook Handbook.
Placement
All graduates during the past five years have either started their careers or continued their education. Forty percent in industry, and sixty percent elected to continue their education with the pursuit of a baccalaureate degree. Our Career Services Center can show you more information related to job placement.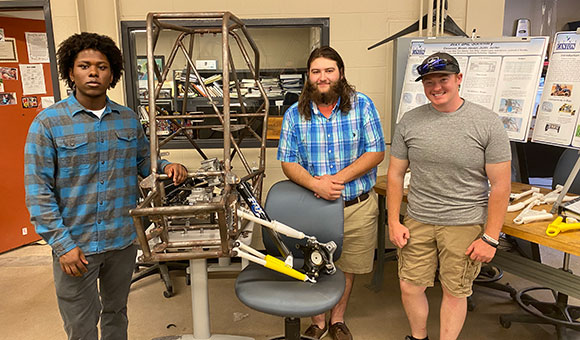 Employers Of SUNY Canton Graduates:
Stature Electric, Inc.
Corning, Inc.
CIVES Steel Co.
IBM
Viking-Cives, USA
Schneider Packing
Acco Brands
Gleason Works
Bombardier, Inc.
Novelis
Young and Franklin, Inc.
Transfer Opportunities:
SUNY Canton (Alternative and Renewable Energy Systems, Industrial Technology Management, Mechanical Technology)
Rochester Institute of Technology
SUNYIT
SUNY Alfred
SUNY Buffalo
Accreditation:

The Mechanical Engineering Technology program is accredited by the Engineering Technology Accreditation Commission of ABET, https://www.abet.org
415 N. Charles St.
Baltimore, MD 21201
(410) 347-7700
Program Education Objectives:
PEO 1: Graduates of the MET program will continue their education to earn a BS degree in a closely related field of MET.
PEO 2: Graduates of the MET program will begin their career with gainful employment in the mechanical technology related fields.
Mechanical Engineering Technology
Lucas Craig
Department Chair
315-386-7384
craigl@canton.edu
Fall Enrollment Trends
| | | | |
| --- | --- | --- | --- |
| | FT | PT | Total |
| 2022 | 5 | 0 | 5 |
| 2021 | 4 | 1 | 5 |
| 2020 | 5 | 0 | 5 |
| 2019 | 12 | 1 | 13 |
| 2018 | 13 | 1 | 14 |

Graduation Rate Trends*
| | | |
| --- | --- | --- |
| Cohort Entering | Cohort Size | % |
| Fall 2019 | 4 | 0% |
| Fall 2018 | 5 | 0% |
| Fall 2017 | 4 | 50% |
| Fall 2016 | 4 | 50% |
| Fall 2015 | 2 | 0% |

*Graduate rates are based on first-time, full-time, degree-seeking freshmen entering in fall and graduating within 150% of time.

Degrees Conferred
| | |
| --- | --- |
| | Total |
| 2021-22 | 2 |
| 2020-21 | 4 |
| 2019-20 | 12 |
| 2018-19 | 8 |
| 2017-18 | 8 |