SUNY Canton Student Research Team Presents Recycling Strategies for 3D Printing
SUNY Canton Student Research Team Presents Recycling Strategies for 3D Printing
A team of SUNY Canton students has been researching the best ways to recycle plastic from 3D printers.
Under the direction of SUNY Canton Professor Matthew J. Burnett, who teaches in the college's Graphic and Multimedia Design program, students have been examining the technical and entrepreneurial aspects of reclaiming and reusing waste plastic filament. Burnett introduced 3D printing as part of the design-focused curriculum.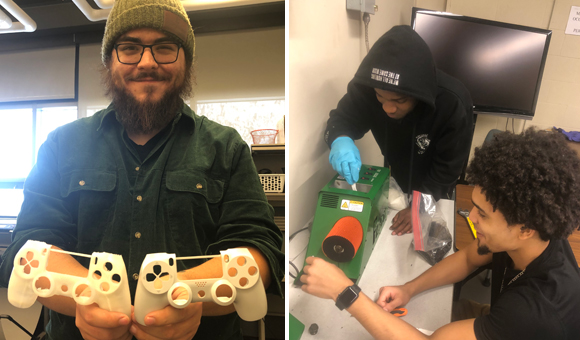 "We were excited to incorporate this new technology, but also daunted by contributing to the overall plastic problem, which is currently one of the biggest environmental concerns," Burnett said. "Our effort supports the college's and my personal commitment to sustainability."
The college's 3D printers use molten plastic extruded from a single strand, or filament, to build up the layers of a finished product. The raw materials needed to make a custom object can generate excess waste. "Recycling plastics for 3D printing is still in its infancy, but we are at the front lines of making it more economical and cost effective," Burnett said.
The study was funded through a grant from the New York State Association for Reduction, Reuse and Recycling, which allowed the college to purchase the equipment needed to recycle waste plastic. The team presented its findings at the American Society for Engineering Education's annual conference, which was held virtually on June 23.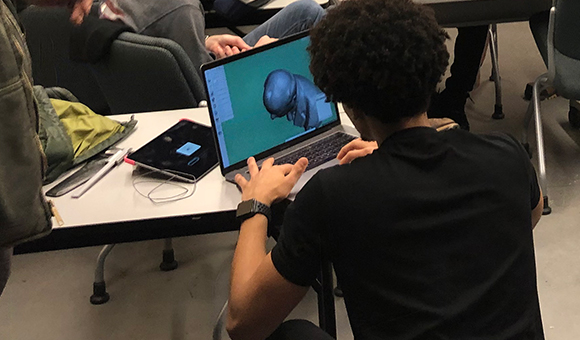 "We'd like to continue testing in the fall and spring semesters." said Michael Wilson, a Graphic and Multimedia Design major from North Creek, who presented the groups findings. "Our research aspires to make it more cost effective to recycle, which could happen if we become more efficient and scaled the process accurately."
Robin McClellan, an adjunct instructor who teaches in the Sustainable Energy Technology program, assisted with designing the experiments for the research. "The idea of recycling anything is appealing to our program," he said.
In addition to Wilson, student team members who participated in the project include:
Ornessa Brown, a Graphic and Multimedia Design major from Saint Albans.
Elisha D. Byrd, a Graphic and Multimedia Design major from Ballston Spa.
Logan Coggins, a Technological Communications major from Redwood.
Calvin A. Debrecourt, a Graphic and Multimedia Design major from New York.
Anthony Filoso, a Management major from Bolton, Ontario.
Xavier D. Gregory, a Graphic and Multimedia Design major from Brooklyn.
Joseph Lopez, a Mechanical Engineering Technology major from Bronx.
Rebecca J. Martin, a Graphic and Multimedia Design major from West Babylon.
Raheem W. Pierre, a Graphic and Multimedia Design major from Bronx.
Thomas M. Schofell, a Industrial Technology Management major from Ogdensburg.
Joshua J. Staring, a Graphic and Multimedia Design major from Lowville.
Several of the students and faculty members involved in the project recently made medical face shields to help regional frontline hospital employees to help during the COVID-19 outbreak.
International Approach
Burnett also teaches a 3D printing course with Munich University of Applied Sciences (MUAS) in Germany, which was offered completely online during the Spring Semester for the first time. He was able to teach the technical components of the hands-on class online via videoconference, and students printed their designs remotely, replacing the need for faculty travel. Students created, and prototyped, a boardgame over the course of the semester. SUNY Canton students will continue to work on the project during upcoming semesters.
The course continues a multi-year international collaboration the SUNY Canton professor developed with faculty members in Germany. In 2018, Johannes Brombach, Ph.D., a professor for work science and ergonomics from MUAS, split his time teaching and conducting research at SUNY Canton and Clarkson University through a prestigious Fulbright Scholarship.
About SUNY Canton
As Northern New York's premier college for career-driven bachelor's degrees, associate degrees and professional certificate programs, SUNY Canton delivers quality hands-on programs in engineering technology, management, and healthcare fields. It is home to the Center for Criminal Justice, Intelligence and Cybersecurity. Faculty members are noted for their professional real-world experience in addition to outstanding academic credentials. As SUNY's leader in online education, SUNY Canton OnLine offers hundreds of flexible and convenient courses as well as 23 online degree programs. The SUNY Canton Kangaroos 15 traditional athletic teams compete at the NCAA Division III level as part of the North Atlantic Conference. SUNY Canton also features varsity esports and cheerleading.