SUNY Canton to Host Inaugural Virtual Cybersecurity Conference
SUNY Canton's new Center for Criminal Justice, Intelligence and Cybersecurity will host its first cybersecurity conference dedicated to educating the public about protecting themselves from cybercriminals. It will also serve to provide insight on how adversaries can weaponize technology to spread false information, particularly in an election year.
Events will be held throughout October to coincide with National Cybersecurity Awareness Month. Community members, students, government officials and business leaders are invited to join any of the five free lunchtime virtual Zoom panel discussions featuring experts from across the country by registering in advance.

"As COVID-19 requires more people to connect virtually, whether it be in education, retail, banking, or other industries, cybersecurity is more important than ever," said Associate Professor Kambiz Ghazinour, Ph.D., who teaches in the college's Cybersecurity program. "These upcoming panels will advise attendees about the best ways to protect themselves online and learn about hacking and disinformation that could occur during the election."
According to the FBI, the number of complaints about cyberattacks has risen 400% since the start of the pandemic, reaching as many as 4,000 reports per day. In addition, a recent joint statement by the FBI and the Cybersecurity and Infrastructure Security Agency warns that due to mail-in voting ballot protocols necessitated by COVID-19, "foreign actors and cybercriminals could exploit the time required to certify and announce elections' results by disseminating disinformation that includes reports of voter suppression, cyberattacks targeting election infrastructure, voter or ballot fraud and other problems intended to convince the public of the elections' illegitimacy."
The conference's first panel, "Oh No, We've Been Hacked," will discuss cybersecurity needs in the North Country from a business perspective. It will be held at 12:30 p.m. Thursday, Oct. 1. Panelists include SUNY Canton Lecturer Minhua Wang, the college's authority on cybercrime, SUNY Canton Assistant Professor Kelly Peterson, Ph.D., and Randall Magiera, security operations manager for CloudCheckr, a cloud computing company based in Rochester.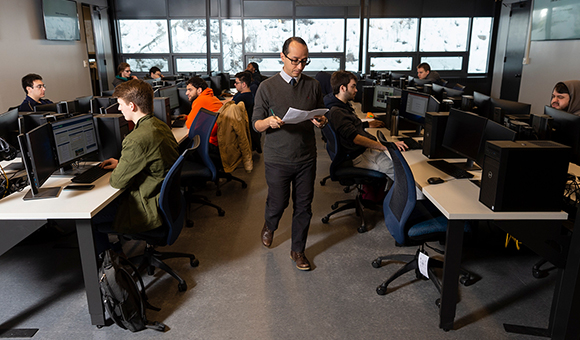 The next panel, "Getting Hacked is Contagious," at 12:30 p.m. Thursday, Oct. 8, will examine cybersecurity in the pandemic and the post-pandemic. Panelists include Allyson Ingalls, an IT specialist for the U.S. Army Signal Network Enterprise Center at Fort Drum; Sebastian Zimmeck, Ph.D., an assistant professor in the Computer Science Department at Wesleyan University; Rouzbeh Razavi, Ph.D. an assistant professor in the Department of Management and Information Systems at Kent State University; and Richard Ingersoll, the director of systems engineering and architecture at St. Lawrence Health System.
The third panel, "The Hackers are Coming! Winning a Cybersecurity War in an Election Year," is scheduled for 12:30 p.m. Thursday, Oct. 15. Speakers include SUNY Canton Lecturer Minhua Wang; Traian Marius Truta, Ph.D., professor and associate chair of the Department of Computer Science at Northern Kentucky University; and Younghun Chae, Ph.D., an assistant professor at Kent State University.
The fourth panel, "Crazy Life with a Connected Device," will be held at 12:30 p.m. Thursday, Oct. 22 and discuss the risks to privacy and data security as smart device technology evolves. Panelists include Sepideh Ghanavati, Ph.D., an assistant professor who teaches computer science at the University of Maine, and Benjamin Yankson, Ph.D., an assistant professor at SUNY Albany's College of Emergency Preparedness, Homeland Security and Cybersecurity.
The final panel will discuss SUNY Canton's growing four-year Cybersecurity program. "Training the Good Guys to Think Like Bad Guys" will be held at 12:30 p.m. Thursday, Oct. 29. Panelists will include Alex Wolfe, a teacher at the Bio-Med Science Academy in Ohio, and SUNY Canton Associate Professor Kambiz Ghazinour, Ph.D.
"Our Bachelor of Science in Cybersecurity gives students the tools and knowledge to keep pace with and defend against cybercriminals," said SUNY Canton Professor Elizabeth Brown, Ph.D., who is also the director of the college's Criminal Justice, Intelligence and Cybersecurity Center. "As one of the eight programs housed within the center, students have the opportunity to learn about many different security fields to increase their career options."
About SUNY Canton
As Northern New York's premier college for career-driven bachelor's degrees, associate degrees and professional certificate programs, SUNY Canton delivers quality hands-on programs in engineering technology, management, and healthcare fields. It is home to the Center for Criminal Justice, Intelligence and Cybersecurity. Faculty members are noted for their professional real-world experience in addition to outstanding academic credentials. As SUNY's leader in online education, SUNY Canton OnLine offers hundreds of flexible and convenient courses as well as 23 online degree programs. The SUNY Canton Kangaroos 15 traditional athletic teams compete at the NCAA Division III level as part of the North Atlantic Conference. SUNY Canton also features varsity esports and cheerleading.