SUNY Canton SBDC Client Named SBA Upstate New York's 2020 Small Business Person of the Year
Josh Gilson of Tradesman Contracting in Rensselaer Falls has received a top award for observing social distancing protocols, growing sales and expanding his business.
For more than 50 years, the U.S. Small Business Administration has celebrated National Small Business Week (NSBW), recognizing the critical contributions of America's entrepreneurs and small business owners. The 2020 NSBW celebrations commenced last week with a virtual three-day conference and awards ceremony that honored national award winners from across New York and the nation for their significant accomplishments.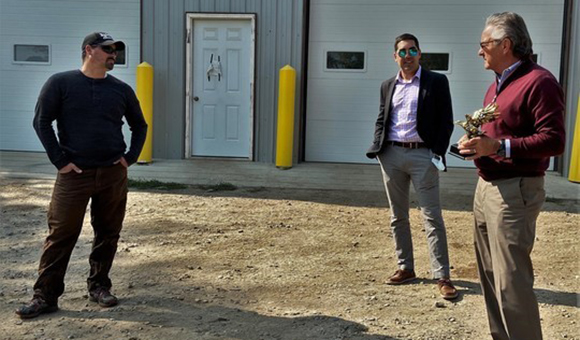 Local awards were given out to businesses in the SBA Upstate New York District which covers 34 counties in the Empire State – from the Hudson Valley, Mohawk Valley and Capital Region to the North Country, Finger Lakes and Southern Tier. Small business owners and entrepreneurs throughout the district's service area were acknowledged for their innovation and resilience this year.
St. Lawrence County native Josh Gilson, owner of Tradesman Contracting, won this year's SBA Upstate New York's 2020 Small Business Person of the Year Award. The award was presented observing social-distancing protocols at Tradesman Contracting's offices in Rensselaer Falls. SBA Upstate New York District Director Bernard J. Paprocki, Deputy District Director Dan Rickman and Gilson's SUNY Canton Small Business Development Center (SBDC) advisor, Michelle Collins were also on hand. Collins had not only nominated Gilson for the award but also worked one-on-one with him to providing free business counseling and assistance through her job at the SBA resource partner; it allowed Josh to expand his business.
"Throughout Upstate New York, there's no better example of small business resiliency and strength this year than Josh Gilson and Tradesman Contracting. Not only has Josh's leadership, community contributions and continued success in the face of adversity grown, but he earned this award through hard work, growth in sales and employees," said SBA Upstate New York District Director Bernard J. Paprocki.
"The SBA Upstate New York District Office is proudly recognizing outstanding entrepreneurs this year during National Small Business Week," said Paprocki. "Josh Gilson is a shining example of a small business owner who has remained dedicated to making a positive impact in our communities and economy."
Tradesman Contracting was founded in 2014 after Gilson, who had worked in the utility construction field for five years, recognized a need for more contractors to meet the growing demands of cable, communications and utility companies. His business began with one pickup truck and a crew of two people. Since then, Gilson has grown Tradesman Contracting to employ more than 20 Upstate New York residents who work to provide service all over Northern and Central New York.
In 2016, Gilson applied for an SBA 7(a) working capital loan and went on to complete an asset buyout of another small utility construction company two years later. He has also opened a second location in Philadelphia, NY; there a crew of four employees serves the Jefferson County area.
"This is a story about having passion, tenacity and vision. Josh Gilson possess these necessary characteristics that a successful small business owner must have to achieve a certain level of success," said SBA Regional Administrator Steve Bulger who oversees the federal agency's operations in the Atlantic and Mid-Atlantic Regions. "SBA continues to foster business development and growth not only in the Empire State, but across the nation. Josh and Tradesman Contracting are the epitome of an SBA success story; I'm especially glad they have honed their ability to pivot, retool, recover and continue to grow in the face of the COVID-19 pandemic," Bulger said.
Within the community, Gilson has donated his time and equipment to assist his town with local projects and serves as assistant coach to a youth hockey program.
"Josh is a terrific example of entrepreneurship. He recognized an opportunity in the market and worked tirelessly to start and grow his business," said SBDC Advisor Michelle Collins. "He is always thinking ahead to the next step for his company and I have no doubt that Tradesman Contracting will continue to grow into the future."
The U.S. Small Business Administration's 2020 National Small Business Week (NSBW) is an annual event dedicated to recognizing the nation's top small businesses, entrepreneurs, small business advocates and champions from across the country. Every day, small businesses create 21st century jobs, support our neighborhoods and cities, and increase America's global competitiveness.
About the U.S. Small Business Administration
The U.S. Small Business Administration makes the American dream of business ownership a reality. As the only go-to resource and voice for small businesses backed by the strength of the federal government, the SBA empowers entrepreneurs and small business owners with the resources and support they need to start, grow or expand their businesses, or recover from a declared disaster. It delivers services through an extensive network of SBA field offices and partnerships with public and private organizations. To learn more, visit www.sba.gov.
Cosponsorship Authorization #SBW2020 SBA's participation in this cosponsored activity is not an endorsement of the views, opinions, products or services of any Cosponsor or other person or entity. All SBA/SCORE programs and services are extended to the public on a nondiscriminatory basis.
About SUNY Canton
As Northern New York's premier college for career-driven bachelor's degrees, associate degrees and professional certificate programs, SUNY Canton delivers quality hands-on programs in engineering technology, management, and healthcare fields. It is home to the Center for Criminal Justice, Intelligence and Cybersecurity. Faculty members are noted for their professional real-world experience in addition to outstanding academic credentials. As SUNY's leader in online education, SUNY Canton OnLine offers hundreds of flexible and convenient courses as well as 23 online degree programs. The SUNY Canton Kangaroos 15 traditional athletic teams compete at the NCAA Division III level as part of the North Atlantic Conference. SUNY Canton also features varsity esports and cheerleading.