Technological Communications Team Helps Create Children's Museum Exhibit
A student and faculty member from SUNY Canton helped arrange the personal narratives and create dynamic imagery for a new exhibit at the North Country Children's Museum in Potsdam.
Logan Coggins, a student in the Technological Communications bachelor's degree program from Redwood, worked with Associate Professor Alainya Kavaloski, Ph.D., to shape the oral recollections of residents' childhood memories for the History of a North Country Childhood display.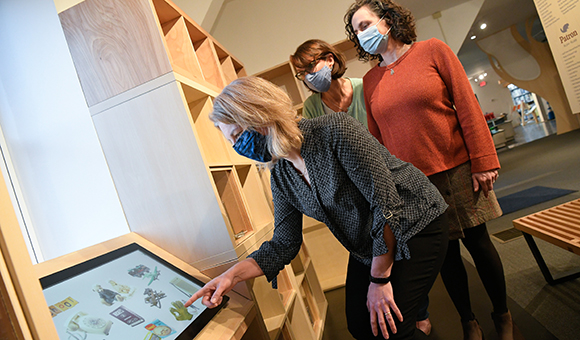 "We wanted to share senior citizens' memories and stories so that young visitors can learn from their experiences," said North Country Children's Museum Director Sharon Vegh Williams. "Laini met with us at the very beginning of the project. She brought on a student to help figure out some of the digital components. Logan did a very good job editing the stories to an evocative length."
A large interactive screen is nestled between a series of cubbies, beckoning children to touch it. Images of historical artifacts provided by the Potsdam History Museum, including painted metal toys, teddy bears, candy and vintage soda bottles float on the digital display. Coggins assisted with photographing the antiques, which are housed in the nearby cubes with pictures of the participants who provided the narratives. Each image links to the short north country specific recollections of childhood with audio piped through a vintage radio.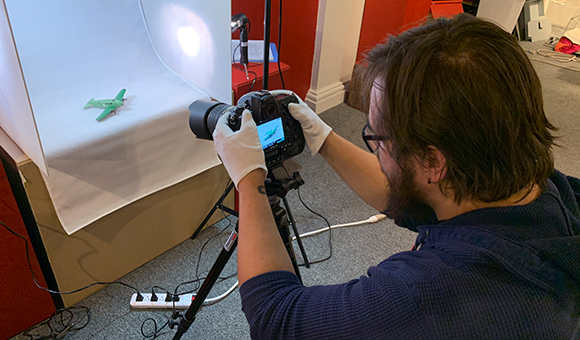 Kavaloski said that Coggins was the very first intern from the Technological Communications program.
"Our internships arrive through our strong connections with the community," she said. "There is another SUNY Canton student slated to start working with the Children's Museum in the spring. We'd like to do something with augmented reality in the future."
SUNY Canton's components of the project were adapted by students and faculty from Clarkson's Digital Arts & Sciences Program. The project was funded by the National Endowment for the Humanities. An article highlighting the new attraction was recently published in the Watertown Daily Times/NNY360.
About SUNY Canton
As Northern New York's premier college for career-driven bachelor's degrees, associate degrees and professional certificate programs, SUNY Canton delivers quality hands-on programs in engineering technology, management, and healthcare fields. It is home to the Center for Criminal Justice, Intelligence and Cybersecurity. Faculty members are noted for their professional real-world experience in addition to outstanding academic credentials. As SUNY's leader in online education, SUNY Canton OnLine offers hundreds of flexible and convenient courses as well as 23 online degree programs. The SUNY Canton Kangaroos 15 traditional athletic teams compete at the NCAA Division III level as part of the North Atlantic Conference. SUNY Canton also features varsity esports and cheerleading.