SUNY Canton Alumnus, Business Faculty Member Becomes Associate Professor
William A. Myers Ph.D. is building on family ties through his career at SUNY Canton.
"My family and I have a long history with the college," Myers said. "My father, Arthur Myers, is a 1958 SUNY Canton graduate. I met my wife, Connie, here in the 1980's, and my youngest daughter, Carrie, is a 2019 graduate."
Myers outlined his lifelong connection with the college when he was recently promoted to associate professor within the School of Business and Liberal Arts and appointed as director of the Business Department. The 1986 graduate recalled fond memories of being a resident assistant in Heritage Hall and participating in clubs and intramural sports as a student.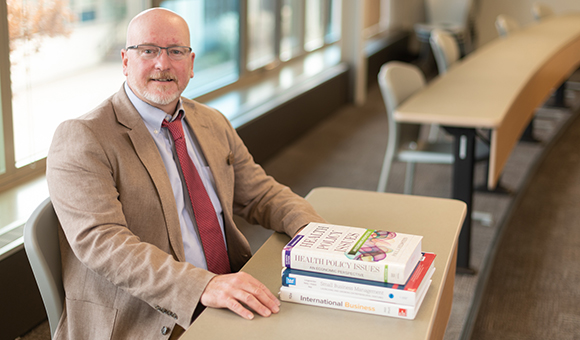 He worked for nearly two decades in the private sector and joined SUNY Canton in 2016. Myers teaches in the Healthcare Management and Management bachelor's degrees. In Spring 2021, he'll be teaching a Small Business Management course in addition to his popular Human Resource Management, Legal & Ethical Issues in Health Care and Leadership and Change courses.
The majority of his courses are offered online, and he was one of many faculty members who adeptly transitioned to remote learning during the onset of the coronavirus pandemic.
"Although the COVID-19 pandemic has presented many challenges, one of the most rewarding experiences that I have had here at SUNY Canton is having the opportunity to see how students, faculty, and staff have come together in an understanding and caring way to navigate this difficult year," he said. "I work with traditional college students right out of high school, and students who are mid-career professionals and everyone in-between. Without exception, I have been impressed with their willingness to adapt to the challenges that we have faced."
Myers added that the pandemic has presented new opportunities to observe how people, organizations, markets, and countries respond to a crisis. "I don't want another year like 2020, but I do think that we will be stronger, and smarter for having worked through it," he said.
As a world-traveled scholar, Myers has presented research on environmental conservation, equity, human rights and social justice. His current research and publications are focused on access to health care in rural areas, and the challenges presented by poverty, geography and addiction.
In addition to receiving his associate degree from SUNY Canton, Myers earned his bachelor's degree from Roberts Wesleyan in Human Resource Management, a master's in Management from Rochester Institute of Technology, and a doctorate in Sustainability Education from Prescott College.
He's a member of the Village of Canton's Sustainability Committee, the Central Adirondack Partnership Healthcare Resources Committee, a member of the Board of Trustees for Cerebral Palsy of the North Country, and a member of the SUNY Canton Alumni Association Board.
Originally hailing from Aurora, Myers now owns a farm in Hermon. He enjoys spending time in the woods and working on refurbishing his farmhouse. He also collects vintage hand tools, with an affinity for antique farm wrenches.
About SUNY Canton
As Northern New York's premier college for career-driven bachelor's degrees, associate degrees and professional certificate programs, SUNY Canton delivers quality hands-on programs in engineering technology, management, and healthcare fields. It is home to the Center for Criminal Justice, Intelligence and Cybersecurity. Faculty members are noted for their professional real-world experience in addition to outstanding academic credentials. As SUNY's leader in online education, SUNY Canton OnLine offers hundreds of flexible and convenient courses as well as 23 online degree programs. The SUNY Canton Kangaroos 15 traditional athletic teams compete at the NCAA Division III level as part of the North Atlantic Conference. SUNY Canton also features varsity esports and cheerleading.