Two More Employees Move Forward in SUNY Canton's One-Hop Shop Student Service Center
Dedicated employees from SUNY Canton's One-Hop Shop Student Service Center have advanced their careers.
Heather Adner was recently hired for the director of financial aid position following a vacancy left by Kerrie L. Cooper who retired after a 28-year career with SUNY Canton.
"Heather has grown tremendously since she has been at SUNY Canton," Cooper said. "She was ready to be director. I am very pleased to see that happen."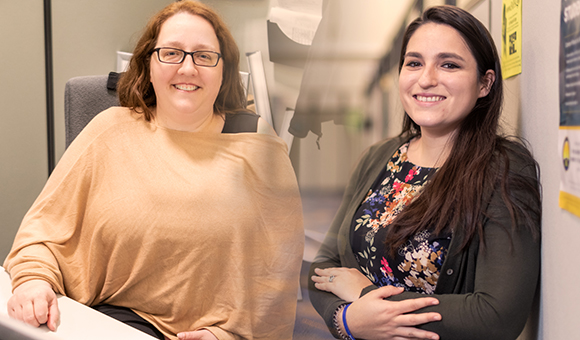 Adner, who resides in Norwood, originally joined the financial aid field as a student worker at SUNY Potsdam in 1993 while working on her bachelor's degree. She continued working in financial aid when she graduated in 1997. Adner began her career at SUNY Canton in 2007 as a senior financial aid advisor and received two promotions during her time at the college.
She said the advancements within financial aid have been particularly memorable.
"There are now early and mobile applications for financial aid," Adner said. "We even just launched a new mobile-friendly summer aid application this week which corresponds with the opening of Summerterm registration."
Many of the employees within the One-Hop Shop pride themselves on their ability to assist students. "Each student has their own unique needs and experiences," she said. "Being able to help them and see them go onto have successful careers is amazing."
Adner volunteers with SUNY and New York State financial aid organizations. She's received multiple awards for her dedication and service, including the SUNY Financial Aid Professionals Service Award in 2019.
Courtney A. Rust was promoted to fill Adner's former role as assistant director of financial aid. Rust was previously a senior financial aid and student accounts assistant, following a 2019 promotion.
Originally from Hermon and Waddington, Rust now resides in Massena. She followed a very similar career path to Adner, having begun her career as a student worker at SUNY Potsdam. She worked as a financial aid counselor while earning her master's degree. Rust's introduction to Canton happened while meeting her boyfriend and now husband, Cody Rust, for study dates at Southworth Library Learning Commons.
"I love that we are both alumni of the two local SUNY schools," Rust said. "Education is very important in our family."
In 2017, Rust graduated with her master's and began working at SUNY Canton as a financial aid assistant. She recently received the New York State Financial Aid Administrators Association's Region 8 Rising Star Award. "I was honored to be able to teach new financial aid professionals at the annual novice conference," she said.
One of her favorite student interactions was formed while helping members of the men's basketball team prepare their Free Application for Federal Student Aid. She said that the players were very grateful for the assistance.
"SUNY Canton students are an amazing group," Rust said. "I have been extra impressed with them this year during the pandemic and how respectful they have been of all the rules and regulations."
About SUNY Canton
As Northern New York's premier college for career-driven bachelor's degrees, associate degrees and professional certificate programs, SUNY Canton delivers quality hands-on programs in engineering technology, management, and healthcare fields. It is home to the Center for Criminal Justice, Intelligence and Cybersecurity. Faculty members are noted for their professional real-world experience in addition to outstanding academic credentials. As SUNY's leader in online education, SUNY Canton OnLine offers hundreds of flexible and convenient courses as well as 23 online degree programs. The SUNY Canton Kangaroos 15 traditional athletic teams compete at the NCAA Division III level as part of the North Atlantic Conference. SUNY Canton also features varsity esports and cheerleading.