From Cameroon to Canton, Students Discover College in Northern New York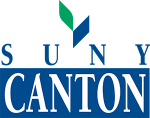 SUNY Canton's connection with Cameroon has become seven students stronger.
The college is continuing an educational agreement with PKFokam Institute of Excellence in Yaoundé, Cameroon that began in 2015. Students take their first three years at their home college and then complete their degree at SUNY Canton. This year's class contains six students staying on campus and one additional student taking classes online from his home in Africa.
"Our students from Cameroon come with the intention to learn as much as they can academically and have a tremendous desire to experience our culture," said Erin Lassial, the college's director of international programs. "It's very apparent that they have an abundance of gratitude for the opportunity to be here and that makes it wonderful to work with them."
Typically, about two or three students come at one time. The college has seen 21 students enroll since the partnership began. "We're seeing numbers increase every year," Lassial said.
The majority of the students are enrolled in SUNY Canton's Finance program and one student opted to study in the Management curriculum.
Overwhelmingly, the students were impressed with their courses at SUNY Canton. Their faculty members relate subject matter to global landscapes. They specifically noted Assistant Lecturer Karen St. Hilaire's Professional Ethics class and their history classes offered through the School of Business and Liberal Arts.
"I learn as much from them as they learn from me," St. Hilaire said. "We are all interconnected. They may be from Africa and we are from the U.S., but we have commonalities – including our shared world.
Faculty members said the contingent from PKFokam exposes American students to new cultures and ideas that are uniquely dissimilar to their own. The exchange allows everyone to gain different perspectives on complex topics such as climate change, sustainability and the environment.
Their biggest shock was the temperature. It was approximately 85 degrees when they left Cameroon, and below freezing when they came to the north country. Many of them had never seen snow.
Although COVID-19 has made traditional college life a little more difficult, the students said they were looking forward to making new friends during their time in Canton.
The students from Cameroon are:
Karl-Loic Donfack Tazanou
Benjamin Joel Kevin Mambou
Estelle Ornela Mieuguem Nobouossie
Ulrika Nyamsi Nkouemkeu
Caneleon Thibaut Nyape Yinga
Aliance Tedonfouet Ndemgne
Blanche Brinda Yougang
About SUNY Canton
As Northern New York's premier college for career-driven bachelor's degrees, associate degrees and professional certificate programs, SUNY Canton delivers quality hands-on programs in engineering technology, management, and healthcare fields. It is home to the Center for Criminal Justice, Intelligence and Cybersecurity. Faculty members are noted for their professional real-world experience in addition to outstanding academic credentials. As SUNY's leader in online education, SUNY Canton OnLine offers hundreds of flexible and convenient courses as well as 23 online degree programs. The SUNY Canton Kangaroos 15 traditional athletic teams compete at the NCAA Division III level as part of the North Atlantic Conference. SUNY Canton also features varsity esports and cheerleading.