Students Save SUNY Canton's Steel Bridge from COVID Cancellations
A group of SUNY Canton seniors from the Canino School of Engineering Technology have beaten the odds to enter the 2021 American Institute of Steel Construction (AISC) Regional Student Steel Bridge Competition.
The college was selected as a host school for the annual AISC competition in 2020, but the event was cancelled due to COVID-19. Rather than scrap their plans, the students have retooled and modified their entry for a virtual competition this year.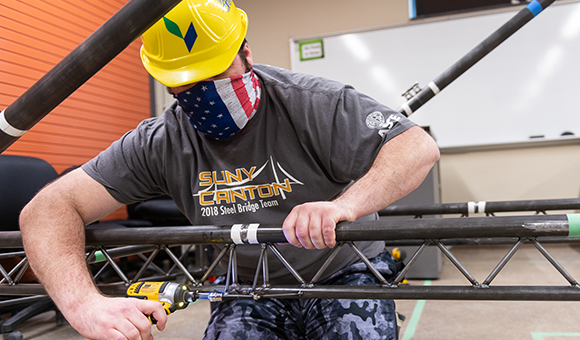 "Everything was shut down and our work went right out of the window when the pandemic hit," said Paul D. Hitchman, an instructional support associate and faculty mentor for the AISC student chapter. "This group of students' interest and familiarity with the bridge allowed them to take sole possession of the project and see it through as a small group."
Hitchman said this bridge was originally designed by students who have since graduated from college and have either started careers or are continuing their education toward advanced degrees. Part of the challenge included both deciphering the original design choices and adapting the original solutions to a different set of problems.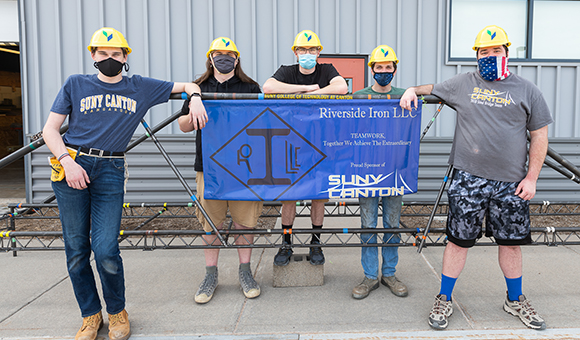 According to Associate Professor Adrienne C. Rygel, Ph.D., the students are submitting the bridge as their senior-level capstone project in the Civil and Environmental Engineering Technology program.
"Students had to first familiarize themselves with the bridge and discuss the design, analysis and construction sequence," she said. "They had to figure it all out to the level of detail that they could present."
The first of three phases required to meet their assignment, and to fulfill competition requirements, was to submit a competition proposal due in February. The second phase is to record themselves constructing the bridge under the watchful eyes of an impartial judge. The team is planning to complete the second phase during the week of March 30 in preparation for an April 1 deadline. The final phase will be to take what they've learned and develop a new and improved design.
"They get to bring it to life and then work on improving the design afterwards," Rygel said.
Both Hitchman and Rygel noted the strategy this year is very similar to how engineering projects transpire in a professional environment and the experience adds to students' critical thinking abilities.
Dale R. Harris of Dundee is one of the four senior-level students to take the lead on the steel bridge entry, said he told his fellow graduating classmates from the AISC team that he strongly believed they could still compete in a bridge competition despite the hiatus and setbacks. "The team has proven themselves to be ready to compete and demonstrate what we can do even after being halted by the pandemic," he said.
In addition to Harris, Civil and Environmental Engineering Technology students who are participating in this year's competition as part of their senior-level capstone project are:
Darren Leblanc of Brushton
Stephen J. Schermerhorn of Cicero
Tristan L. Trombley of Keeseville
Other members of the 2020 team include:
Jaden A. Caldwell of Canton
Benjamin P. York of Auburn
Joshua E. Godbout of Lisbon
AISC steel bridge entries come from colleges across the U.S. and are judged on a variety of factors, including strength, aesthetics, and construction speed. Speed has traditionally been the factor that helps the SUNY Canton team win. The student-led club has earned 15 first place finishes in about 25 regional competitions. The college landed a first-place finish in both the regional and national competition in 2009. In 2018, the college picked up a second-place win at regionals and a ninth-place finish at nationals.
Dennis E. Tuper, an instructional support associate in the Automotive Technology program and a precision welder, helped students fabricate the bridge.
The steel used to construct the bridge was donated by 1991 alumnus Eric S. Tessmer, who owns Riverside Iron, LLC, Gouverneur. The team also receives support from the Canton College Foundation and the SUNY Canton's President's Office.
About SUNY Canton
As Northern New York's premier college for career-driven bachelor's degrees, associate degrees and professional certificate programs, SUNY Canton delivers quality hands-on programs in engineering technology, management, and healthcare fields. It is home to the Center for Criminal Justice, Intelligence and Cybersecurity. Faculty members are noted for their professional real-world experience in addition to outstanding academic credentials. As SUNY's leader in online education, SUNY Canton OnLine offers hundreds of flexible and convenient courses as well as 23 online degree programs. The SUNY Canton Kangaroos 15 traditional athletic teams compete at the NCAA Division III level as part of the North Atlantic Conference. SUNY Canton also features varsity esports and cheerleading.