Esports Residence Hall Wing Filled to Capacity at SUNY Canton
SUNY Canton's new Esports Wing has become a home away from home with student residents building friendships based on a love of video games.
The college unveiled the latest themed housing option at the beginning of the fall 2021 semester in Heritage Hall East. The wing features 36 newly renovated double-occupancy rooms with black-stained wooden loft beds and desks tucked under each bunk, capable of housing students' custom gaming machines. Walls are painted in SUNY Canton blue and gold, mirroring themes found in the college's Esports Arena.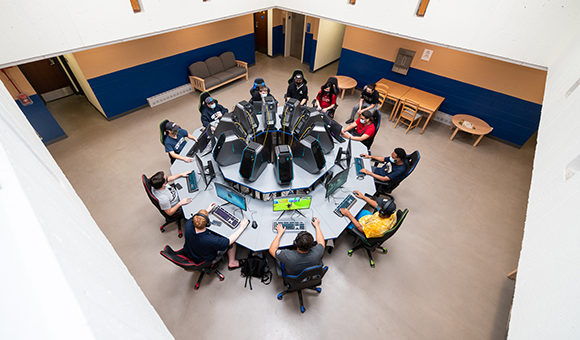 Approximately 70 students currently live in the wing and there is a waiting list for those who want to move in. The newly furnished residence rooms designed for individual gaming attracted students to the space, and then the camaraderie they developed with their peers clinched the experience of living on campus. Andrew J. Lukan, a Game Design and Development major from Beacon, described life in the wing as an exceptional experience that has allowed him to build new relationships.
"Having an assumption that the other people around you are in the same demographic and like the same things as you make it much easier to approach everyone and strike up a conversation," Lukan said. "I was able to talk to everyone who came outside to the lounge, and I've made a lot of good friends here."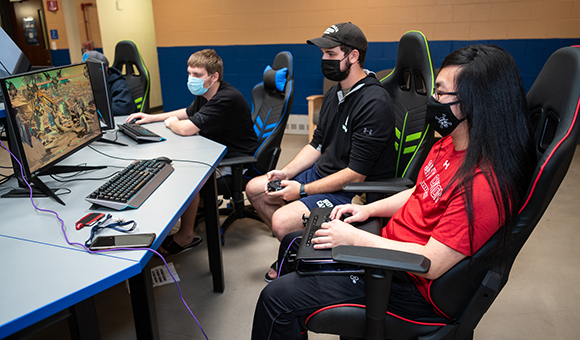 Lukan is on the Guilty Gear Strive esports team. He said on his second day he met up with another player, Cooper J. Hewison of Delmar, who played the same games. "The genre is very niche, so it's always an amazing feeling to find someone in person you can play with," Lukan said. "He's become a good training partner and one of my best friends here on campus."
When students aren't in their rooms, they are typically enthusiastically playing around the large circular gaming space in the common area. The college outfitted the wing with 10 Dell Alienware gaming PCs and gaming chairs. "We designed the space as a secondary competition location for when we have more games than computers available," said SUNY Canton Esports Coordinator Charles W. Murray. "Students can play 11 games in the SUNY Esports League, the Eastern College Athletic Conference, in addition to other collegiate gameplay, so we have a very full schedule."
SUNY Canton was the first SUNY college to offer varsity esports and one of the very first to create a dedicated arena. Based on the continuing popularity of video games, the college also created a four-year academic program in Esports Management. "Our students have led the way in every aspect of developing our esports program," said Randy B. Sieminski, SUNY Canton Athletic Director. "I wouldn't say we are innovators; I'd say we simply listen to our students' ideas and requests. By listening to our students, we continue to build and create great things in Esports. The new Esports Wing is the latest aspect to become wildly popular right from the start."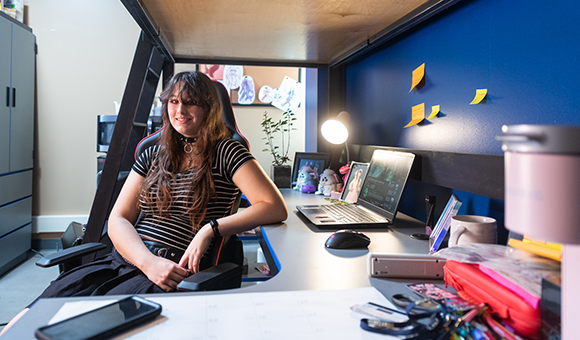 Not every resident of the wing is involved with esports. Lexa L. Leach, a Graphic and Multimedia Design major from Naples, said she plays Minecraft, and has begun playing League of Legends and Sea of Thieves with her friends, but does not play on a team.
"I came to Canton not playing a lot of games, I never even had a good PC to play on," Leach said. "People here are quick to recommend games if you don't know what to play."
She said she was surprised to learn how active her area would be in Heritage Hall. "I certainly didn't think that the East Wing would be the most social out of the three, but hey, I'm glad to have lots of people to talk to," she said.
Matthew M. Hodgdon, an HVAC Trades student from Hammond, is an avid video game enthusiast who enjoys a variety of team-based and independent games. He said he doesn't play on an esports team but likes to play competitively on his own or with his friends. He echoed the thoughts of his neighbors from Heritage East. "Living in the Esports Wing is awesome and its full of really friendly people" he said. "The people here can push you to become better at gaming."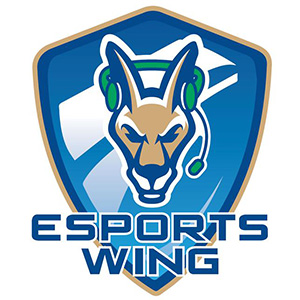 The Esports Wing was a team project spearheaded by Residence Life, the Physical Plant, Information Technology, and the Athletic Department. It is the newest of several themed housing options available in the college's residence halls. The Pet Wings in Mohawk Hall allow more than 100 students to live on campus with their animal companions.
About SUNY Canton
As Northern New York's premier college for career-driven bachelor's degrees, associate degrees and professional certificate programs, SUNY Canton delivers quality hands-on programs in engineering technology, management, and healthcare fields. It is home to the Center for Criminal Justice, Intelligence and Cybersecurity. Faculty members are noted for their professional real-world experience in addition to outstanding academic credentials. As SUNY's leader in online education, SUNY Canton OnLine offers hundreds of flexible and convenient courses as well as 23 online degree programs. The SUNY Canton Kangaroos 15 traditional athletic teams compete at the NCAA Division III level as part of the North Atlantic Conference. SUNY Canton also features varsity esports and cheerleading.