Forward Thinking, Student-Focused Innovation: SUNY Canton Celebrates Molly Mott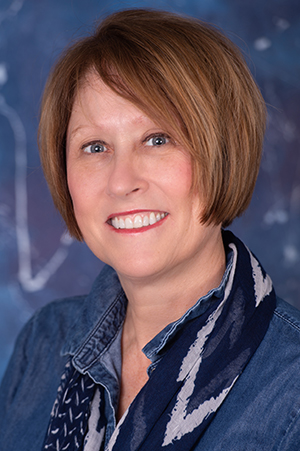 A dedicated educator, administrator and student advocate will be retiring from SUNY Canton following a 32-year career.
Molly A. Mott, Ph.D., who is currently the college's Associate Provost and Dean of Academic Support Services, announced her retirement beginning April 1. She will continue working on a part-time basis as part of a bridge for the next year.
"Dr. Mott supervised several extremely important areas of the college," said SUNY Canton President Zvi Szafran. "Each of the areas she oversees excel in their services to our students because of her collaborative leadership and transformative thinking. She's been a leader in fostering college-wide cultural shifts that embody a student-focused experience."
Mott's career has been marked by many firsts. She was the first Licensed Veterinary Technician SUNY Canton hired, working at the college's former farm on State Route 68 in Canton. She managed cows, sheep, horses, heifers, and the ever-important farm cats. She went on to create courses in animal behavior and the human-animal bond and was the recipient of the New York State Veterinary Technologist of the Year award. She received national attention as the cover story for the Veterinary Technician Journal. She was one of the first two instructors to develop and teach online courses at SUNY Canton and used videoconferencing to teach a behavior class to all technology sector colleges synchronously. Later, she became the college's first Director of Online Learning and the first Dean of Academic Support Services.
She has assumed senior leadership roles across the campus, with a portfolio that included Online Learning, Academic Support Services, Academic Affairs and Student Affairs, Non-Academic Assessment, and even at one time, Information Services. Additionally, Mott has presented to local, state, national, and international conferences on distance learning and online student engagement and traveled across the world to provide workshops in Russia, Ukraine, and Chinese universities on distance learning practices.
"Molly has touched virtually every area of this campus" said Provost and Vice President for Academic Affairs Peggy A. De Cooke. "She has always centered her work around student success, and her vision has enabled the campus to develop programs and services to facilitate student growth and development. These programs have positioned Canton as a leader within SUNY in the delivery of Academic Support Services, particularly those that are online. Molly has also been a wonderful mentor, empowering people to make improvements to their areas. The college would not be the institution that it is without her lasting guidance.
Most recently, she oversaw the college's Admissions Office, which notably has maintained enrollment goals and expanded higher education access amidst state-wide downward trends. According to Executive Director of Enrollment Melissa J. Evans, it's tremendously difficult to see a part of the college that Mott has not influenced.
"Those of us that had the privilege to work with Molly saw first-hand the amount of energy she poured into our campus," Evans said. "We also saw her unrelenting commitment to put students first in every decision. SUNY Canton shines in student support. That is a direct result of Molly's hard work and dedication."
As the senior administrator responsible for the Southworth Library Learning Commons, Mott helped transform the building into a learning space focused on access for all. Under her guidance, the library integrated an expanded tutoring center into the Learning Commons, positioning Canton as one of the first SUNY institutions to do so. All of these changes were made in an effort to expand the resources for students, faculty and the campus community.
"Her vision was to make the Southworth Library Learning Commons a place where students would come to learn, network, and grow through access to services, spaces, and dedicated faculty and staff," said Johanna Lee, Executive Director of the Learning Commons. "Today, it is a hub where interactions and access support student learning both on-campus and virtually."
As a technology-inspired educator, Mott saw online learning as a way to provide access to students and was eager to spread her passion for helping animals to students beyond Canton. This passion for reaching others, wherever they may be, is the driver of her leadership at Canton and across SUNY in online learning
"Online learning at SUNY Canton has flourished into a robust effort benefiting students near and far because of Dr. Mott's efforts and expertise," said Antonia (Tonka) Jokelova, director of the Center for Learning Design, Innovation, and Online Instruction. "Since the day I started, I continue to learn from Molly when it comes to online learning management, student centeredness, and being a compassionate and kind professional."
Mott credits her ability to try new things to the campus leadership who supported her vision and ideas. "SUNY Canton truly embraces innovation, and I am eternally grateful for the opportunities that the campus has given me to serve students and the community," she said.
Mott received the 2010 SUNY Canton President's Meritorious Service Award, the 2003 SUNY Canton Excellence in College Service Award, and the 2017 SUNY Chancellor's Award for Excellence in Professional Service and has published in various journals.
She earned an Associate in Applied Science in Veterinary Science Technology from SUNY Farmingdale, a Bachelor of Arts in English from SUNY Geneseo, a Master of Science in Instructional Technology and Media Management from SUNY Potsdam, and a Ph.D. in Higher Education with a specialization in educational technology from Walden University.
Dr. Mott resides in Hermon with her husband, Charles, and cat, Smoky. Her daughter, Abigail, has also established a successful career in higher education.
About SUNY Canton
As Northern New York's premier college for career-driven bachelor's degrees, associate degrees and professional certificate programs, SUNY Canton delivers quality hands-on programs in engineering technology, management, and healthcare fields. It is home to the Center for Criminal Justice, Intelligence and Cybersecurity. Faculty members are noted for their professional real-world experience in addition to outstanding academic credentials. As SUNY's leader in online education, SUNY Canton OnLine offers hundreds of flexible and convenient courses as well as 23 online degree programs. The SUNY Canton Kangaroos 15 traditional athletic teams compete at the NCAA Division III level as part of the North Atlantic Conference. SUNY Canton also features varsity esports and cheerleading.