SUNY Automotive Technology Staffer Receives ASE Technician of the Year Award
A SUNY Canton educator and alumnus who has made a lifetime commitment to students in the skilled trades has earned a career-defining achievement from the National Institute for Automotive Service Excellence (ASE).
Dennis E. Tuper, an Instructional Support Associate for the Automotive Technology program, earned the Motor Age Training + ASE Master Automobile and L1 Technician of the Year award. The acknowledgement was given when Tuper achieved the highest cumulative score on eight ASE tests and an advanced engine performance specialist certification examination. He was one of only 48 automotive professionals recognized by ASE this year.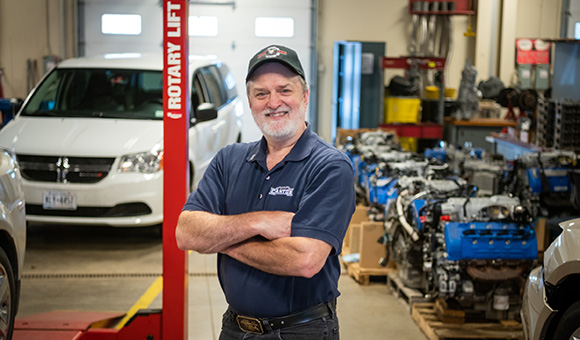 "From welding a competition-ready steel bridge to conducting a nut-and-bolt restoration on a custom V8 engine, Dennis can really fix everything," noted Canino School of Engineering Technology Dean Michael J. Newtown. "We've been exceptionally fortunate to have him on our staff and appreciate his patience and knowledge. He's been a tremendous resource for our students."
Tuper is a graduate of the Automotive Technology program. He began working at SUNY Canton in 1999 following a successful career with TJ Toyota in Potsdam. He's been an ASE Master Automobile Technician since 1986. He has earned titles of Chrysler Master Technician, Toyota Master Diagnostic Technician and Silver Level Honda Technician. He finished fourth in the country at the Toyota Master Technician Skills Contest in 1998.
"I found out at an early age that I had a knack for fixing things," Tuper said. "I started out like many technicians working on bikes and lawn mowers. We didn't have a lot of money, so it was something I learned to do or go without. It just manifested into what I am today."
In addition to being an Instructional Support Associate who keeps the automotive laboratory running, Tuper teaches several courses, including welding, automatic transmissions, and manual transmissions and drivetrains.
"I had some terrific help along the way," Tuper noted. "My step-dad, Ralph Planty, was a great general mechanic and fabricator, and had the patience of a saint. My high-school shop teacher, Stuart Valentine, was also a huge influence on my career path, especially when I moved from a technician into the education field."
Tuper is well known for assisting with the college's American Institute of Steel Construction Steel Bridge Team and has been the primary bridge fabricator during the team's 25-year run. He typically spends more than 100 hours a year welding the bridge following student designs. Tuper and retired Instructional Support Associate Paul D. Hitchman won the SUNY Canton College Council's Excellence in College Service Award in 2013 for their work with the team.
Other than the annual Student Steel Bridge Competition, he said his favorite memories with the college were the two times he brought groups of Auto Club students and faculty members to the Specialty Equipment Market Association (SEMA) show in Las Vegas.
"It's the largest automotive aftermarket merchandising convention in the world and is reserved for those associated with an automotive trade," Tuper said. "It was a great time, and I was happy to be part of those groups."
Tuper's support of students is not bound to the classroom. He sponsors an Automotive Student Textbook Scholarship given annually to a second-year Automotive Technology student through the SUNY Canton College Foundation, Inc.
"Jesse Briggs was the first student to benefit from my textbook scholarship in 2013, even before I made it official through the Foundation," Tuper recalled "I picked up the cost of his textbooks for his last two semesters, but there was a catch. He had to agree to walk the stage at commencement."
Tuper even paid for Briggs' cap and gown for graduation. Briggs went on to become a certified master automobile technician at a Volkswagen dealership and earned his four-year SUNY Canton degree in 2017. "He's a true success story that I was privileged to be a part of," he said.
He said his future plans include retiring from the college, and perhaps focusing on some of his hobbies. He enjoys gardening, hunting, fishing, woodworking or riding his four-wheeler, snowmobile, and Harley Davidson. He also volunteers with the American Legion. "Working in my woodlot is also great therapy," he said.
Tuper lives in West Potsdam with his partner, Debra S. LaBrake, who works for the SUNY Canton College Association in the Campus Center Store.
About the National Institute for Automotive Service Excellence (ASE)
ASE is a non-profit organization that has worked to improve the quality of vehicle repair and service by testing and certifying automotive professionals since 1972. Its mission is to protect automotive service customers, shop owners, and service professionals. The organization tests and certifies service professionals to better gauge technicians' level of expertise. The ASE certification is designed to bring peace of mind to those offering or needing automotive repair.
About SUNY Canton
As Northern New York's premier college for career-driven bachelor's degrees, associate degrees and professional certificate programs, SUNY Canton delivers quality hands-on programs in engineering technology, management, and healthcare fields. It is home to the Center for Criminal Justice, Intelligence and Cybersecurity. Faculty members are noted for their professional real-world experience in addition to outstanding academic credentials. As SUNY's leader in online education, SUNY Canton OnLine offers hundreds of flexible and convenient courses as well as 23 online degree programs. The SUNY Canton Kangaroos 15 traditional athletic teams compete at the NCAA Division III level as part of the North Atlantic Conference. SUNY Canton also features varsity esports and cheerleading.