SUNY Canton's Dana Hall Criminal Justice Center Featured in 'American School & University'
A building once deemed unsavable has become a SUNY Canton showpiece.
Dana Hall was featured in the Outstanding Design section of the November-December edition of "American School and University," an industry-specific trade publication that provides exclusive reports and research on the planning, design, construction, retrofit, operations, maintenance, security, and management of education facilities.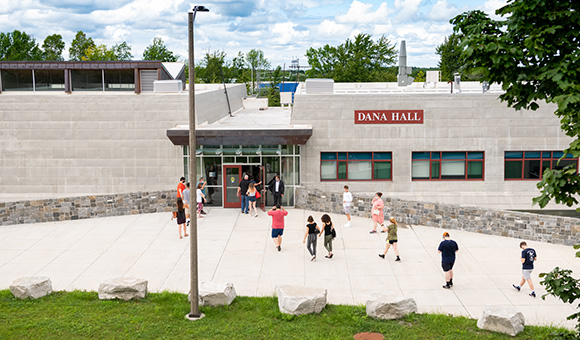 In 2007, the college was notified that Dana Hall had structural issues in its signature curved laminated wooden, or glulam, beams. At the time, the building was the home of SUNY Canton Athletics, which relocated to the new Roos House Convocation, Athletic and Recreation Center in 2011. With the help of a specialized consultant, all the beams were reinforced, resolving any concerns, and freeing the building up for the college's ever-growing Criminal Justice programs.
"My favorite part of the renovation was how the architects were able to preserve the original wooden beams," said SUNY Canton President Zvi Szafran. "They accentuate the bright and modern learning environments within the building."
In 2019, Szafran and key faculty members announced that the college would be creating a new Center for Criminal Justice, Intelligence and Cybersecurity (CJIC), and that it would be housed in Dana Hall. The CJIC combines all related programs, including Criminal Investigation, Crime Analysis, Law Enforcement Leadership, Forensic Criminology, Homeland Security, Emergency Management and Cybersecurity into one academic area. It is the largest and most comprehensive Criminal Justice-related educational opportunity in the immediate area. The CJIC officially opened its doors in Dana Hall at the beginning of the fall 2021 semester.
"We used the opportunity to create a student-centered educational space," said Professor Elizabeth A. Brown, Ph.D., who oversees the CJIC. "We have both in-person classrooms and flex technology classrooms – but the first thing you'll see is a student lounge. It's dedicated to any of the students enrolled in programs within the CJIC."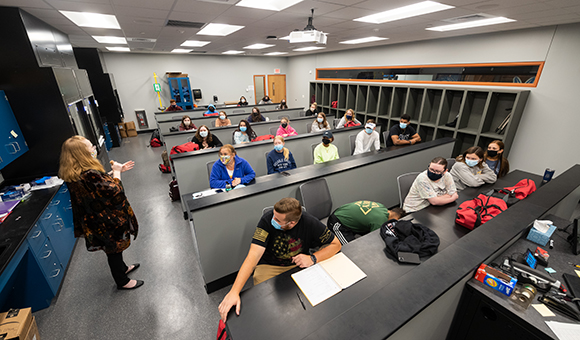 Additional improvements include a 30-person laboratory where students learn to process crime scene evidence, a crime scene room, and offices dedicated for interview and interrogations. As one of the college's signature applied educational offerings, students learn everything from fingerprint collection to blood spatter analysis, with a focus on preparing them for careers in law enforcement or as crime scene investigators. Other upcoming plans include a specialized intelligence laboratory for the Crime Analysis program.
While most of the building is newly remodeled, Dana Hall's Alumni Gymnasium remains intact. The space is used for intramural sports, physical fitness space for the CJIC, and as overflow athletic space. The building also houses the college's University Police Department, the David Sullivan-St. Lawrence County Law Enforcement Academy, and the SUNY Canton Corrections Academy under one roof.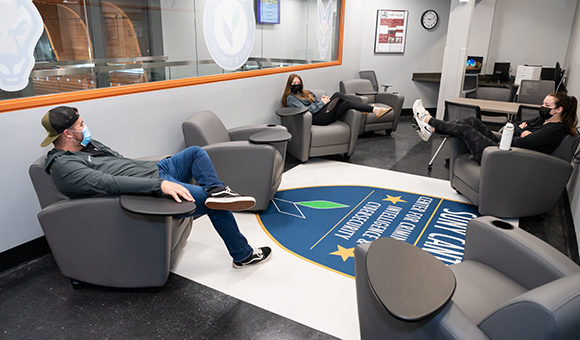 Other significant upgrades include new zinc siding, new windows and all-new heating, ventilation and air conditioning units, among other improvements.
Completed in 1967, Dana Hall was one of three original buildings on campus utilizing glulam beams. Kingston Theater, which caught fire in 1997, and Chaney Dining Center, which recently underwent a major renovation, both shared a similar design. Commencement, and the majority of the college's home basketball games were held in Dana Hall since the college moved to its current location in the 60s.
The renovation design team for the project was led by Mach Architecture. Construction was completed by Northern Tier Contracting, with oversight by SUNY Canton facilities management personnel and Executive Director of Facilities Michael McCormick.
About SUNY Canton
As Northern New York's premier college for career-driven bachelor's degrees, associate degrees and professional certificate programs, SUNY Canton delivers quality hands-on programs in engineering technology, management, and healthcare fields. It is home to the Center for Criminal Justice, Intelligence and Cybersecurity. Faculty members are noted for their professional real-world experience in addition to outstanding academic credentials. As SUNY's leader in online education, SUNY Canton OnLine offers hundreds of flexible and convenient courses as well as 23 online degree programs. The SUNY Canton Kangaroos 15 traditional athletic teams compete at the NCAA Division III level as part of the North Atlantic Conference. SUNY Canton also features varsity esports and cheerleading.