SUNY Canton Student Intern Assists St. Lawrence County Sheriff's Office During Domestic Emergency
A SUNY Canton student intern with the St. Lawrence County Sheriff's Office has received multiple awards for her response during a shooting in the Town of Rossie.
Criminal Investigation major Brooke E. Ayers of Parishville was on a ride-along when Deputy Matthew T. Merria responded to a domestic incident on the early morning of March 9. As they arrived on the scene, they discovered a woman had been shot in the neck. Ayers was directed by Merria to provide support and first aid until backup could arrive.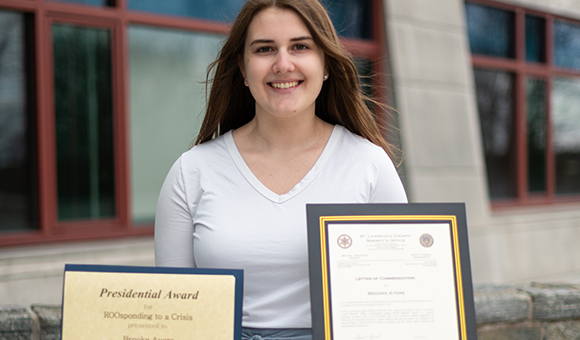 "At SUNY Canton, we often describe ourselves as a college of application," said SUNY Canton President Zvi Szafran "This is not usually the kind of application we have in mind, but it goes to show exactly what we are talking about - an education that prepares you for your job, in a very real sense."
Szafran presented Ayers with a presidential award for "Roosponding to a Crisis," a play on words incorporating the school's mascot, Roody Roo, during a special ceremony held in Dana Hall.
St. Lawrence County Undersheriff Sean P. O'Brien presented Ayers with a letter of commendation from the Sheriff's Office. "Miss Ayers showed excellent judgment by following the directives given by Deputy Merria." he said. "Once the threat was mitigated, she assisted by helping calm the victim and collecting vital and pertinent information."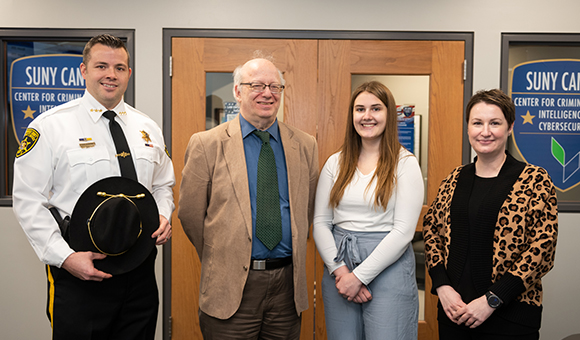 Ayers was hesitant to say she provided life-saving measures, but said she aided the victim until EMTs could respond to the scene. "I'd like to thank the school for giving me the opportunity to do an internship," she said. "Thank you for the experience and thank you for these awards."
Assistant Professor Kelly R. Peterson, who serves as Ayer's internship coordinator, mirrored Szafran's summation of Ayer's actions. "As a faculty mentor to interns, I enjoy watching students apply what they have learned to real world situations," Peterson said. "Brooke was successful in applying a number of lessons in this case."
Criminal Investigation is one of eight programs offered through the Center for Criminal Justice, Intelligence and Cybersecurity (CJIC) and was the college's first four-year degree. The hands-on learning curriculum offers students an optional internship component to help link future graduates with law enforcement agencies or crime scene laboratories. The experience allows them to integrate classroom learning and practice while offering insight into their future professions.
About SUNY Canton
As Northern New York's premier college for career-driven bachelor's degrees, associate degrees and professional certificate programs, SUNY Canton delivers quality hands-on programs in engineering technology, management, and healthcare fields. It is home to the Center for Criminal Justice, Intelligence and Cybersecurity. Faculty members are noted for their professional real-world experience in addition to outstanding academic credentials. As SUNY's leader in online education, SUNY Canton OnLine offers hundreds of flexible and convenient courses as well as 23 online degree programs. The SUNY Canton Kangaroos 15 traditional athletic teams compete at the NCAA Division III level as part of the North Atlantic Conference. SUNY Canton also features varsity esports and cheerleading.