SUNY Canton President Zvi Szafran Recognizes COVID Testing Volunteers for 'Roosponding'
SUNY Canton President Zvi Szafran has recognized faculty, staff and administration members for aiding in college-wide COVID-19 testing.
Approximately 114 employees volunteered to help the college conduct more than 43,500 tests since the fall 2020 semester. The college uses a pooled saliva test developed by Quadrant Biosciences and SUNY Upstate Medical University. The operation necessitates significant staffing to register those being tested, collect and label specimens, transport medical samples to the lab in Syracuse, in addition to overall coordination and planning. In total, employees contributed more than 3,000 hours to the program.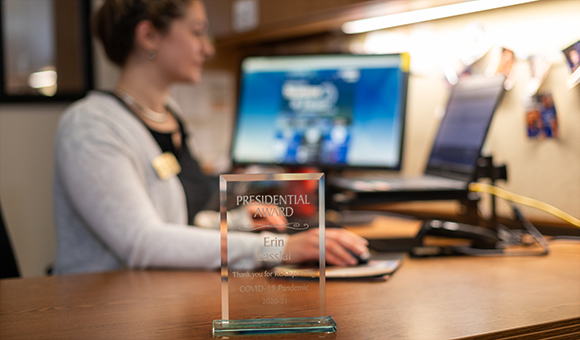 "There were so many people who were quick to volunteer and help us conduct our testing," said SUNY Canton President Zvi Szafran. "It's been a herculean task, and we are so proud of the people who stepped up. We felt a presidential citation was in order to recognize everyone's efforts."
Previously, Szafran recognized three employees with Meritorious Service Awards for coordinating the massive testing program.
Among the employees to receive the presidential citation and a trophy for "Roosponding" were:
Nicodeme F. Auguste, Assistant Director of College Housing
Amber L. Baines, Special Events Coordinator
Brittaney A. Barr, Information Services Operations Assistant
D. Anthony Beane, Veterinary Science Technology Professor (retired)
Erin E. Bechtel, Athletics Office Assistant 2
Mark R. Bickelhaupt, Telecommunications Manager
Courtney B. Bish, Vice President for Student Affairs and Dean of Students
Rebecca L. Blackmon, Academic Affairs Administrative Assistant
Alexander G. Boak, Head Men's Ice Hockey Coach
Miranda Britt, Professional Tutor
Robert Bruce, Assistant Director of Student Activities, Involvement, and Leadership
Jamie L. Burgess, Director of Alumni Engagement and Communications
Brooke M. Bush, Nursing Instructional Support Associate
Renee L. Campbell, Assistant to the Provost
Sarah Chamberlain, Associate Director of Residence Life
Chelsea Chase, Associate Director of Admissions
Lisa E. Colbert, Criminal Justice Associate Professor of Practice
Derek L. Converse, Environmental Health and Safety Coordinator
Kerrie L. Cooper, Director of Financial Aid (retired)
Theresa C. Corbine, Information Services Instructional Support Specialist
Amanda L. Crump, Interim Director of the One Hop Shop
Michelle Currier, Forensic Criminology Associate Professor

Ronda L. Curtis, Systems Analyst Programmer
Peggy A. De Cooke, Provost and Vice President for Academic Affairs
Brenda L. Dean, Canino School of Engineering Technology Administrative Assistant

Amanda L. Deckert, Assistant Director of Human Resources
Patricia Endres, Student Success Mentor
Kyle R. Fennell, Coordinator of Communications and Technologies Enrollment
Marela Fiacco, Associate Professor and Health Care Management Chair
Tina M. Flanagan, Human Resources Benefits Coordinator
Douglas O. Frary, Cleaner
Nichole M. Fullerton, Catering and Dining Specialist
Elizabeth F. Gravlin, Director of Annual Giving and Advancement Services
James L. Hamilton, Chemistry Adjunct Instructor
Neil A. Haney, Mechanical Engineering Technology Instructional Support Associate
Patrick Harrington, Director of Roos House, Head Men's Lacrosse Coach
Nathaniel Hart, Assistant Athletic Director for Communications and Marketing
Sara Hartman, Development Officer
Cullen Haskins, Mechanical Engineering Technology Lecturer

Rosemarie C. Heisse, College Physician
Lorraine Honeyghan, Smith Hall Residence Director
Jennifer Hynes, Health Services Licensed Practical Nurse
Lashawanda Ingram, Director of Diversity and Orientation
Mary J. James, Business Office Staff Assistant and Financial Analyst
Jennifer A. Jones, Canino School of Engineering Technology Administrative Assistant
Corey J. Jordan, Campus Store Director
Joseph A. Kelly, Head Janitor
John M. Kennedy, Director of Residence Life
Kathryn L. Kennedy, Assistant Director of Career Services
Gregory E. Kie, Senior Media Relations Manager
Brian E. Kurish, University Police Lieutenant

David LaBaff, Head Women's Hockey Coach

Phil K. Lamarche, Humanities Associate Professor
Erin E. Lassial, Director of International Programs
Heather C. Lauzon, Student Accessibility Services Administrative Assistant 1
Johanna M. Lee, Executive Director of the Learning Commons
Priscilla L. Collins, Director of Student Activities, Involvement, and Leadership
Peggy S. Levato, Director of Major Gifts and Philanthropy Advisor (retired)
Farren C. Lobdell, Director of Wellness Promotions
Mary O. Loomis, Veterinary Science Technology Professor

Rose Lucidi, Head Women's Soccer Coach
Sarah H. Maneely, Financial Aid Counselor

Bethany A. Martin, Director of Purchasing
Christina L. Martin, Early Childhood Lecturer and Student Teacher Coordinator
Patrick Martin, Assistant Athletic Director for NCAA Compliance
Patrick S. Massaro, Director of CREST Center and Veterans Coordinator
Karen McAuliffe, College Association Human Resource and Administrative Manager
Robin McClellan, Mechanical Engineering Technology Adjunct Instructor
Jennifer S. McDonald, Physical Therapist Assistant Program Professor
Daniel McLane, Social Sciences Lecturer
Melinda Miller, Director of Counseling
Teresa Minckler, Associate Director of Athletics
Molly A. Mott, Associate Provost for Innovations
Alan P. Mulkin, University Police Chief
Graham Northup, Criminal Justice Instructional Support Assistant
Sean T. O'Brien, Humanities Associate Professor

Bryan M. O'Connor, Athletic Facilities Assistant
Diane J. Para, Sports Management Professor
Bryan D. Parker, Fitness Center Director
Julie A. Parkman, Director of Career Services
Timothy Penrod, Head Men's Soccer Coach
Vicki E. Perrine, Health Care Management Lecturer
Amanda L. Persons, Health Services Physician Assistant
Kelly R. Peterson, Criminal Investigation Assistant Professor
Stephanie Petkovsek, History Lecturer and UUP Canton Chapter President
Anne Reilly, Physical Therapist Assistant Program Instructional Support Associate
Amanda D. Rowley, Assistant to the Vice President for Administration
Shiva Senthil, Head Men's Basketball Coach
Whitney Sharlow, Canton College Foundation Accounting Assistant
James L. Sheppard, Personal Counseling Center Counselor
Randy B. Sieminski, Director of Athletics
Brian teRiele, Facilities Management Project Site Representative
Richard (R.J.) Thayer, Director of Student Affairs Technology
Tracey L. Thompson, Vice President for Advancement
Adam Todd, Head Women's Lacrosse Coach
Melissa Tulip, Business Office Budget Officer
Geoffrey C.S. VanderWoude, Director of Development and Planned Giving
Lenore VanderZee, Executive Director for University Relations

Barry W. Walch, Funeral Services Administration Adjunct Instructor
Sandra Walker, Canton College Foundation Administrative Assistant 1
Megan Warren, Business Office Office Assistant 2
Kristin M. Weston, Health Services Nurse Practitioner
Shanna White, Director of Health Services
Leah M. Worden, Nursing Assistant Professor
Michaela J. Young, Executive Assistant to the President
About SUNY Canton
As Northern New York's premier college for career-driven bachelor's degrees, associate degrees and professional certificate programs, SUNY Canton delivers quality hands-on programs in engineering technology, management, and healthcare fields. It is home to the Center for Criminal Justice, Intelligence and Cybersecurity. Faculty members are noted for their professional real-world experience in addition to outstanding academic credentials. As SUNY's leader in online education, SUNY Canton OnLine offers hundreds of flexible and convenient courses as well as 23 online degree programs. The SUNY Canton Kangaroos 15 traditional athletic teams compete at the NCAA Division III level as part of the North Atlantic Conference. SUNY Canton also features varsity esports and cheerleading.