100% Online - This SUNY Canton degree can be earned entirely online.
Nursing - B.S.
Program Highlights
Career oriented
Develops critical thinking and professional growth
Available online
The Bachelor of Science in Nursing (BS) degree program at SUNY Canton is designed for registered nurses who want to continue their education for professional and personal development. Like all of SUNY Canton's degree options, it is career oriented by design.
---
The SUNY Canton Nursing Program is registered by the New York State Education Department, which is responsible to the Board of Regents. The Board is recognized by the U.S. Department of Education as a national accrediting body for nursing education programs. The program is also accredited by the Accreditation Commission for Education in Nursing, Inc. (ACEN) and Middle States, having met and maintained criteria for excellence.
Accreditations
The RN-BS nursing program at State University of New York at the Canton located in Canton, New York is accredited by the:
Accreditation Commission for Education in Nursing (ACEN)
3390 Peachtree Road NE, Suite 1400
Atlanta, GA 30326
404-975-5000
www.acenursing.org

The most recent accreditation decision made by the ACEN Board of Commissioners for the RN-BS nursing program is Continuing Accreditation.

Registered by the NYS Education Department, Office of the Professions.
State Education Building - 2nd Floor
Albany, NY 12234
Phone: 518-474-3817
Students Will Learn
Innovative and progressive healthcare concepts
Accelerated leadership and management abilities
Advanced aptitudes for patient relation and education
Expanded critical thinking and targeted response skills
Career Ready
Graduates are prepared to seek advanced employment in hospitals, private physician practices, community clinics and agencies, research organizations, pharmaceutical firms, and academic institutions.
Registered nurses recognize that our bachelor's degree will help them to advance their careers and prepare them for a broader scope of nursing career options.
- John Conklin
Nursing Professor
Seamless Transition
This program is a natural progression for nursing students and alumni who have already received their associate degree. Some health related professions pay for continuing education, so employers may pay a portion or all of the tuition for this advanced degree.
Transfer Opportunities
Graduates of the RN-BS program are able to transfer into the College of Nursing's graduate programs at SUNY Upstate Medical University.
Convenience and Flexibility
The program is offered through SUNY Canton Online allowing lifestyles or work schedules to remain a top priority in each student's life. The program offers all of its courses in a convenient and flexible format so RNs can achieve their advanced degrees in the most efficient way possible. Course delivery is asynchronous, so students can participate at times and from locations convenient to them.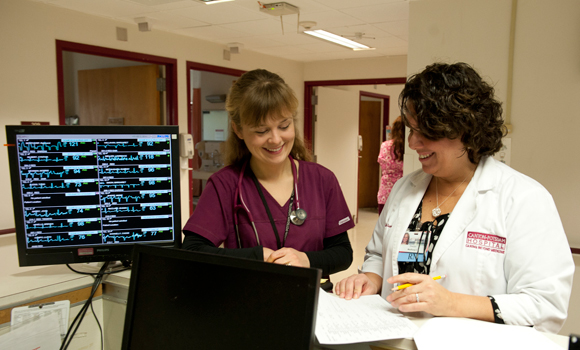 Eyes on the Future
From the first graduating class to the present, our graduates have been employed or continuing their education within six months of graduation.

Employment statistics are from the Bureau of Labor Statistics 2020-2030 Occupational Outlook Handbook.
Employment Outlook for Nursing
This program was created in part to help meet the demand for more advanced trained nurses amidst a nation-wide professional health care shortage. Employment of registered nurses is expected to grow much faster than the average for all occupations through 2020 according to the Department of Labor Bureau of Labor Statistics. Registered nurses are projected to generate 587,000 new jobs, among the largest number of new jobs for any occupation.