Veterinary Technology - B.S.
SUNY Canton is one of 20 colleges in the nation to offer this exclusive program. The four-year degree compliments and builds off of the College's veterinary science technology associate degree program. Students in this program will be eligible to take the Veterinary Technology National Exam and become licensed technicians as well as having the career flexibility that a bachelor degree allows.
SUNY Canton's Veterinary technology program will educate quality graduates who can immediately start working in the healthcare field. Careers for graduates are expected to grow nearly 40 percent in the next decade, according to the US Department of Labor, Bureau of Labor Statistics.
This degree provides students with advanced technical training and tools needed to succeed in supervisory or managerial roles. Graduates of the four-year program will also be able to pursue other advanced degree programs upon completion of the degree.
- Dr. Mary O'Horo Loomis, D.V.M.
Professor Emerita
Required Rabies Vaccination
Pre-exposure rabies vaccination is required of all students. This is administered in a series of three vaccinations and must be completed prior entering the first 120 hr mandatory preceptorship (VSCT 201).
Program Strengths
Gives students a strong foundational science background coupled with communication and critical thinking skills
Offers a strong educational foundation for students graduating in biology, veterinary medicine or related fields
Supplies students with knowledge and skills beyond that of an entry level technician in advanced nursing skills, business organization and management and current issues in veterinary science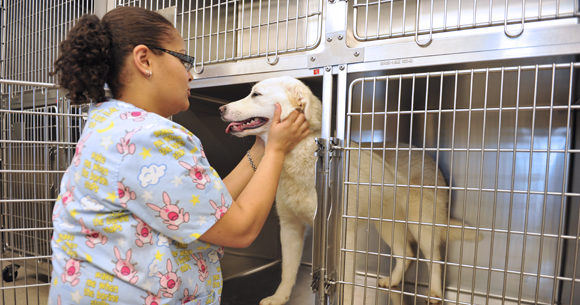 Career Ready
The program will expand a student's education in veterinary science, physical sciences, public health issues and occupational safety. The program offers the potential for students to take the courses required for entrance into most veterinary colleges or pursue other graduate programs.
Career Opportunities
Veterinary Technician
Education
Government and industry
Research in biomedical facilities, diagnostic laboratories, wildlife facilities, drug and food manufacturing companies and food safety inspection facilities
Technicians are needed in animal clinics and hospitals, shelters, boarding kennels, animal control facilities and humane societies.
Transfer Opportunities
Wendy Kuceyeski
Newell Vet Tech Center 101A
34 Cornell Drive
Canton, NY 13617

315-379-3865
kuceyeskiw@canton.edu