Home > SHCJ > Veterinary Service Admin > Program Description
Veterinary Service Administration - Program Description
The Bachelor of Technology in Veterinary Service Administration constitutes the final two years of a 2+2 articulation program in which the first two years entail completion of a degree in Veterinary Technology from an accredited program. Take a glance at SUNY Canton's Veterinary Science Technology AAS program for more details.
This degree serves to provide the knowledge and skills necessary to manage a business or organization that provides veterinary care to animals. Emphasis is placed upon establishing a foundation in basic Business and Accounting principles, then applying these principles to the management of specific types of veterinary businesses and institutions. Students will complete an internship concentrating on management and administration within a veterinary setting. This program may be completed partially or entirely online.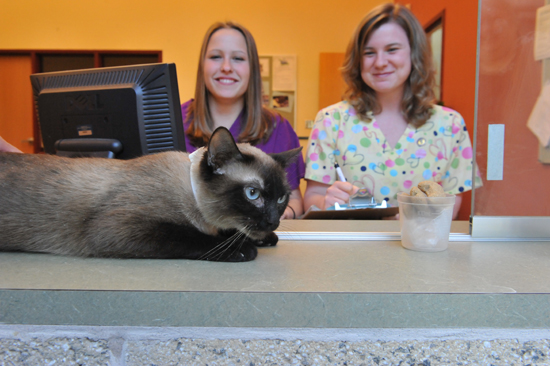 Students in this Major:
Begin by laying a foundation in Business, Accounting, Math, and Liberal Arts.
Build upon this foundation with coursework specific to veterinary management.
Are prepared for entry-level management positions in veterinary hospitals or other animal-related businesses.
Will spend a semester in the field as an intern in a managerial capacity.
Will complete the course work required for certified Veterinary Practice Manager (CVPM) certification.
Career Opportunities:
Veterinary Practice Management
Biomedical Research Facility Management
Diagnostic Laboratory Management
Animal Shelter Management
Mobile and Spay/Neuter Clinic Management
Zoo and Wildlife Management
Public Sector employment
Admission Requirements:
The following requirements pertain to admission into the Junior year of the program. View the requirements for the first year of the Veterinary Science Technology program. For admission into the Junior year of the program:
Graduation from an AVMA accredited veterinary technology program like SUNY Canton's Veterinary Science Technology program.
Veterinary Technician licensure, registration, or certification, as applicable for state of residency, or eligibility thereof.
PROGRAM REQUIREMENTS (Curriculum 2535)
Semester V Credits
Semester VI Credits
Semester VII Credits
Semester VIII Credits
* Math Elective: MATH 111, 121, 123, 141, or 161
** Must meet seven out of ten General Education Requirements, and have 30 total General Education credits. Graduation Requirements: Total Semester Credit Hours: 62 GPA: 2.0 Minimum
*** Students in the Veterinary Service Administration, B.B.A. program are required to earn a C or better in all VSAD courses taken for credit in the program. Students who do not receive a grade of C or better in any of these courses will not be allowed to continue in the program. Students not allowed to continue in the program will have to change their majors and then apply for readmission to the program for the following year if they still want to pursue this major after receiving a grade less than C. Readmission to the program is selective and not guaranteed.

The course may be taken for a third time, but not until a period of 5 years has elapsed.

# Fulfills writing intensive requirement.
U/L= Upper Level Courses (300/400)
GER= General Education Requirement
Review the Index of Course Descriptions
Sophia Theodore
Newell Vet Tech Center 101E
34 Cornell Drive
Canton, NY 13617

315-379-3896
theodores@canton.edu