Early Childhood Faculty Member Selected for SUNY Distinguished Teaching Professorship
The State University of New York has selected SUNY Canton Professor Maureen P. Maiocco, Ed.D., for induction into the Distinguished Academy. Maiocco received the title of Distinguished Teaching Professor, signifying her as the highest-ranking faculty member at the college.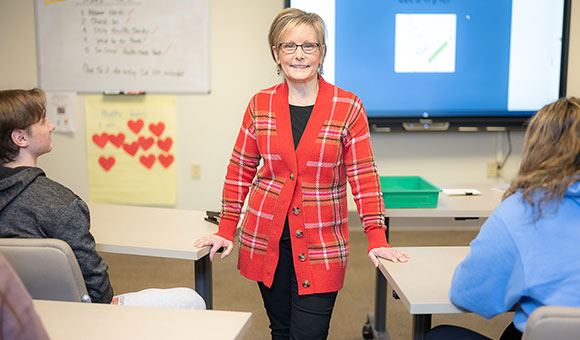 "Dr. Maiocco is a respected and beloved educator who teaches her students to be caring, attentive, and dedicated professionals," said SUNY Canton President Zvi Szafran. "She leads by example and wants graduates to focus on their own students' holistic knowledge and well-being. Her hands-on and applied techniques prepare students with confidence for when they begin in their classrooms."
Szafran announced Maiocco's induction to the college at a Faculty Assembly meeting held Tuesday, Feb. 7.
Maiocco began her career at SUNY Canton in 2004 with an intense passion and desire to expand and adapt the Early Childhood program. The two-year associate degree was still in its early stages, and she quickly became the faculty member responsible for its continuing success.
"Dr. Maiocco currently serves as the Social Sciences Department Chair within the School of Business and Liberal Arts, where she actively collaborates with the school's dean to supervise 36 faculty members teaching both on-campus and online," said SUNY Canton Provost Peggy A. De Cooke. "Her experience as former school dean and her exquisite attention to detail help provide relevant guidance that helps both faculty and the college obtain synergistic success."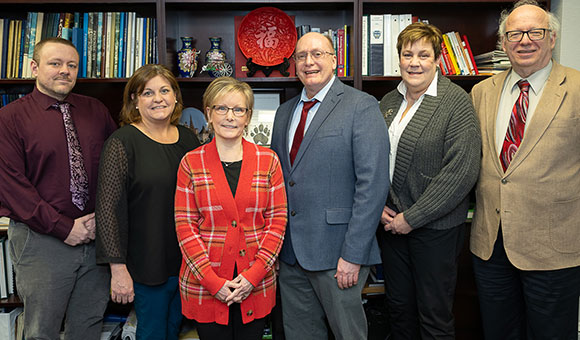 The new Distinguished Teaching Professor created the successful four-year Early Childhood Care and Management program in 2018. Enrollment in the Early Childhood programs grew from an average of 25 students in the early 2000s to 102 in 2023. She has increased her program's reach through exploratory learning ventures with international colleges and moved Early Childhood classes into online and flex formats, in addition to traditional classroom and lab-based instruction.
"Dr. Maiocco has dedicated herself to improving the program where possible by developing meaningful outcomes," said SUNY Canton School of Business and Liberal Arts Dean Kirk K. Jones. "She is one of the strongest faculty members when it comes to assessment and uses data to contribute to the improved learning of her students."
Over the past year, Maiocco continued her program's tradition of excellence by helping the SUNY Canton Southworth Library expand its Diversity, Equity and Inclusion book collection. She also partnered with area agencies to help expand quality regional childcare options through a newly formed Family Child Care Training Program. Most recently, she helped develop the college's plans to add a new, high-quality child care center at SUNY Canton in collaboration with The ARC Jefferson.
"Maureen has worked tirelessly, often against seemingly impossible odds, to improve, create and expand course offerings to ensure traditional and non-traditional students have the opportunity to graduate from SUNY Canton with a solid foundation ready to enter today's early childhood workforce or continue their education," said St. Lawrence Childcare Council Inc. Executive Director Bruce M. Stewart.
Originally from Massachusetts, Maiocco earned her Bachelor's in Education from Curry College, her Master's in Teacher Leadership from Wheelock College, and her Doctorate in Education from Nova Southwestern University in Ft. Lauderdale, Fla. She previously received the SUNY Canton College Council's Distinguished Faculty Award in 2011, the SUNY Chancellor's Award for Excellence in Teaching in 2014, and the Stellar Advisor Award in 2017, in addition to numerous student-determined accolades. She said she was honored to receive the Distinguished Teaching Professorship.
"Since joining SUNY Canton, I have had numerous opportunities to lead, contribute, and promote the specialized field of early care and education," Maiocco said. "I am fortunate to have a career that allows me to mentor, support, and share my knowledge, experiences, and passion with undergraduate students, assisting each with achieving academic and professional success."
Maiocco is one of three faculty members in SUNY Canton history to be inducted into the SUNY Distinguished Academy. The late Professor Emerita Nancy R. Auster was inducted as Distinguished Service Professor in 1982, and Professor Emerita Marie C. Regan, was inducted as Distinguished Service Professor in 1990. Maiocco is the first in college history to receive the Distinguished Teaching Professorship.
The Distinguished Teaching Professorship recognizes and honors mastery of teaching. For this prestigious tribute to be conferred, candidates must have demonstrated consistently superior mastery of teaching, outstanding service to students, and commitment to their ongoing intellectual growth, scholarship and professional growth, and adherence to rigorous academic standards and requirements.
About SUNY Canton
As Northern New York's premier college for career-driven bachelor's degrees, associate degrees and professional certificate programs, SUNY Canton delivers quality hands-on programs in engineering technology, management, and healthcare fields. It is home to the Center for Criminal Justice, Intelligence and Cybersecurity. Faculty members are noted for their professional real-world experience in addition to outstanding academic credentials. As SUNY's leader in online education, SUNY Canton OnLine offers hundreds of flexible and convenient courses as well as 23 online degree programs. The SUNY Canton Kangaroos 15 traditional athletic teams compete at the NCAA Division III level as part of the North Atlantic Conference. SUNY Canton also features varsity esports and cheerleading.