Classroom - This SUNY Canton degree can be earned in a traditional classroom setting.

100% Online - This SUNY Canton degree can be earned entirely online.
Home > SHCJ > Criminal Justice
Criminal Justice - A.A.S.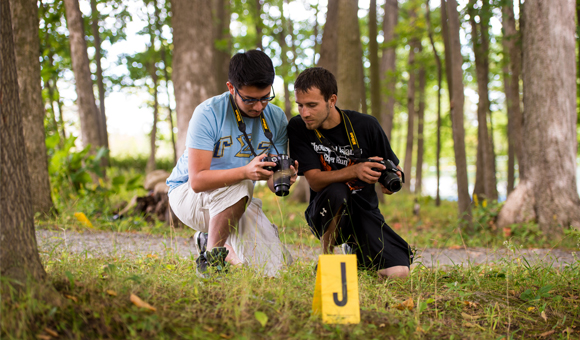 CJ Students Study
Corrections
Criminal Law
Criminal Investigations
Forensic Investigations
Law Enforcement
Homeland Security
---
Our CJ program is unique:
The program offers distinct learning tracts which allows the student the opportunity to tailor their coursework for future career aspirations. These tracts include:
Law Enforcement
Corrections
Generalist
Students are provided a solid academic foundation that allows them to seamlessly transfer into the B. Tech in Criminal Investigation, Homeland Security, or Criminal Justice: Law Enforcement Leadership programs at SUNY Canton.

Employment statistics are from the Bureau of Labor Statistics 2020-2030 Occupational Outlook Handbook.
Convenient Courses in the Classroom or Online
Besides taking courses in the classroom, students have the option to take classes online at their convenience from anywhere on the globe. The Criminal Justice program offers both traditional face-to-face and online courses throughout the Spring and Fall semesters, in addition to online Winter and Summer sessions.
Potential Careers Opportunities
Federal Law Enforcement Agents
Police Officers
Latent print development
Probation or Parole Officers
Correctional Officers
Taking a look at the course descriptions will give you a feel for what you will be learning as you work towards your degree.
---
Faculty
Our faculty and staff are seasoned professionals and belong to organizations such as:
IAI - International Association for Identification
IACP - International Association of Police
INEOA - International Narcotic Officers Association
American Criminal Justice Association - Beta Psi Delta
Military Police Regimental Association
Alpha Phi Sigma, National Criminal Justice Honor's Society, Omega Upsilon
New York State Criminal Justice Educators Association
International Association for Identification (IAI)
Academy of Criminal Justice Sciences (ACJS)
---
Interesting Web Links