Home > Law Enforcement Day > 2022
Law Enforcement Day 2022
March 29, 2022 - "In the Field"
"In the Field," the 12th Annual Law Enforcement Day was delivered as specialized webinars throughout the day.
Speakers: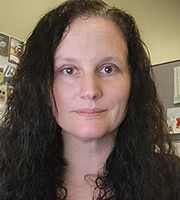 Tanya Logan
March 29 | 9:00 AM
Tanya Boyer graduated in 2018 with a Bachelor's of Technology in Criminal Investigation and minor in Forensic Science with Summa Cum Laude honors. After graduation, she moved to Florida where she has been working for the Orange County Sheriff's Office as a Latent Print Examiner since August 2020. She is also cross-trained in Crime Scene Investigations. Tanya is a mother of 2 and a veteran of the United States Army and New York Army National Guard.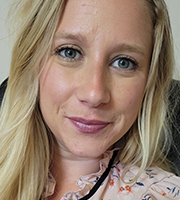 Megan LaSala
March 29 | 10:00 AM
Megan LaSala graduated in 2016 with a Bachelor's of Technology in Criminal Investigation. After graduation she worked at St. Lawrence Valley Renewal House working with adults and child victims of domestic violence or sexual assault. She then moved to the Child Advocacy Center of Northern New York as a Forensic Interviewer. Megan is certified in Child First Protocol and has logged thousands of hours of interviews, helped train MDT members, helped create policies and procedures for the MDT and the mobile unit, as well as becoming certified in other trainings such as the Monique Burr Foundation: Child Safety/Teen Safety Matters, Commercial Sexual Exploitation of Children. Megan is now a Probation Officer for St. Lawrence County.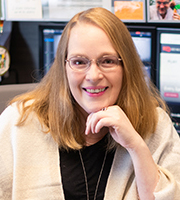 Graduate School - Career Services & Kelly Peterson
March 29 | 11:00 AM
Career Services and Associate Professor Kelly Peterson discuss options and planning for graduate studies post-SUNY Canton.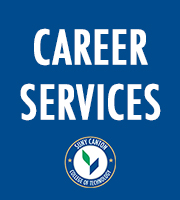 Career Fair
March 29 | 11:00 AM - 2:00 PM in Dana Hall
Employers – Federal Bureau of Prisons, NYS Department of Corrections, DCJS / NYS Crime Analysis Center, St. Lawrence County Sheriff's Office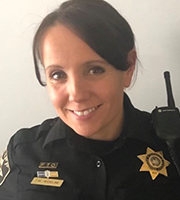 Tanya Wickline
March 29 | 12:00 PM
Tanya Wickline graduated in 1997 with an Associate's in Criminal Justice degree. After graduation, Detective Wickline became employed by the Onondaga County Sheriff's Office where she was a uniformed police officer for 17 years. She is currently assigned to the Abused Person Unit / Special Victims Unit. Detective Wickline is also a certified crisis negotiator for the SWAT team and a defense tactics instructor with the police academy.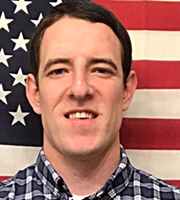 Griffin Hughes
March 29 | 1:00 PM
Griffin Hughes graduated Summa Cum Laude in 2021 with a Bachelor's of Technology in Homeland Security and a minor in Criminology. After graduation, Griffin accepted a position with the U.S. Department of Justice. He is also a member of Alpha Phi Sigma, West Virginia InfraGard Members Alliance (IMA) in the Defense Industrial Base Sector, and National Sheriffs' Association.
Patrick O'Brien
March 29 | 2:00 PM
Patrick O'Brien graduated in 2021 with a Bachelor's of Science in Emergency Management. He is a 25-year veteran of the fire service and currently serves as an Assistant Chief for the Massena Fire Department as well as the emergency manager for both the Village & Town of Massena. He currently works full-time as the Director of Environmental Health & Safety and Emergency Manager for SUNY Potsdam. Additionally, he is employed by the New York State Division of Homeland Security & Emergency Services as a State Fire Instructor, as well as the St. Lawrence County Office of Emergency Services as a County Fire Instructor. He is the founder and owner of Trinity Planning, a risk management and regulatory compliance consulting firm based in Northern New York. He holds a Bachelor's of Science in Emergency and Disaster Management from the State University of New York at Canton and is currently working on his Master's in Public Administration at Norwich University.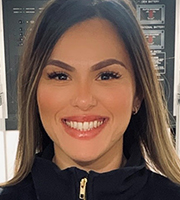 Tina DeLuca
March 29 | 3:00 PM
Detective Tina DeLuca graduated in 2013 with a Bachelor of Technology in Criminal Investigation. After graduation, she entered NYPD as a patrol officer in Brooklyn where she responded to 911 calls. For the past 2 years Detective DeLucas has been assigned to the Crime Scene Unit as a crime scene investigator. Her unit responds to various crime scenes within the 5 boroughs of NYC in an effort to help aid in ongoing investigations. Crime scene investigator responsibilities include photographing and documenting the scene, conducting a search to locate evidence, and to package recovered evidence to be sent to the forensic lab for testing. She has responded to approximately 70 crime scenes, varying from homicides to sexual assault to police involved shootings. Within her career she has received specialized training in shooting reconstruction, blood stain analysis, clandestine graves, forensic photography, fingerprint recovery, and forensic pathology with the NYC OCME office. She credits SUNY Canton for providing the forensic education and skills she utilizes today while out on the field processing scenes.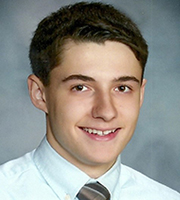 Schuyler Waldron
March 29 | 4:00 PM
Schuyler Waldron graduated in 2020 with a Bachelor's of Science in Cybersecurity. After graduation, he moved to Helena, Montana to work for the Montana State Lottery as an Information Systems Security Officer. Schuyler now works for Montana State IT in the same position. He is currently working in the Risk Management branch of Montana State IT and is training for industry certifications such as the (ISC)2 CAP. Before SUNY Canton, Schuyler received his A.A.S. from Jefferson Community College in Computer Information Systems. He also has past experience working as a Desktop Analyst for Fulton Boiler Works in Pulaski, NY.