SUNY Canton's Annual Report 'Together, We Can' Chronicles a Year of Achievements
The college re-established itself as a leader in online and distance learning amidst the pandemic landscape, in a year marked with numerous faculty and student successes.
SUNY Canton President Zvi Szafran said 2020 will stand out as a pivotal year in the college's history.
Szafran recently submitted the college's Annual Report to the State University of New York, titled "Together, We Can." It outlines the nimble switch to remote instruction during the spring semester and the ongoing spirit of innovation imbued in every facet of the college's operations. The report is available in a responsive online format and in a limited-run print edition.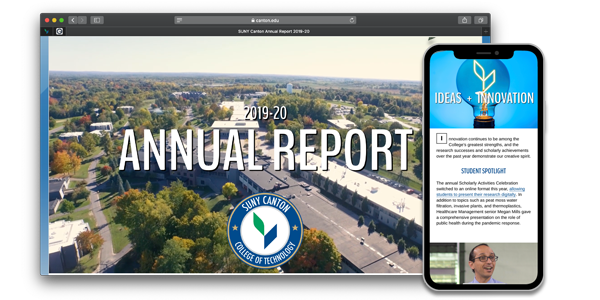 "As we embark on a new semester, renew our strategic plan, and prepare for a new way of life on campus, we have the opportunity to draw on the strengths that were developed over the past several decades and build on the lessons learned during the past year," Szafran said. "This has the potential to be a turning point in our history and allow us to lead in the new educational frontier."
The college has demographically changed in a little under a decade, with 69% of students seeking a bachelor's degree, compared to 31% in 2010-2011. Capitalizing on that trend, faculty created three new four-year degrees over the past year. Crime Analysis, Esports Management, and Forensic Criminology are available online and in traditional formats. The college is a partner in SUNY Online, which offers more educational opportunities than ever before.

In a year defined by the ongoing pandemic, established strengths in online education allowed the college to quickly pivot to an entirely virtual academic landscape during the spring semester.
In addition to academics, some of the most prominent responses to COVID-19 included:
The report also includes student profiles, numerous faculty highlights, and information on the college's diversity and inclusive curriculum.
The Annual Report is the amalgamation of content provided by the college's four vice presidents, with substantial input provided by the four academic deans. It is designed by SUNY Canton's Public Relations Department. Last year, the college won a Gold Accolade Award from the Council for Advancement and Support of Education for the digital version of the 2018-2019 Annual Report.
About SUNY Canton
As Northern New York's premier college for career-driven bachelor's degrees, associate degrees and professional certificate programs, SUNY Canton delivers quality hands-on programs in engineering technology, management, and healthcare fields. It is home to the Center for Criminal Justice, Intelligence and Cybersecurity. Faculty members are noted for their professional real-world experience in addition to outstanding academic credentials. As SUNY's leader in online education, SUNY Canton OnLine offers hundreds of flexible and convenient courses as well as 23 online degree programs. The SUNY Canton Kangaroos 15 traditional athletic teams compete at the NCAA Division III level as part of the North Atlantic Conference. SUNY Canton also features varsity esports and cheerleading.